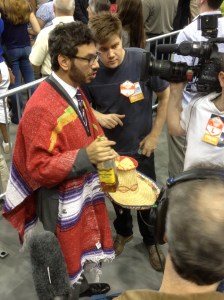 RICHMOND, VA — The Daily Show's "Senior Latino Correspondent," Al Madrigal, brought a sombrero, poncho, nachos and a bottle of Jose Cuervo tequila to President Barack Obama's campaign kickoff rally at Virginia Commonwealth University in Richmond today.
Mr. Madrigal told The Politicker his costume and refreshments are part of "a bit" that we presume is in honor of Cinco de Mayo. We asked Mr. Madrigal if he had trouble getting his tequila through the Secret Service security checkpoint for reporters at the rally.
"No, not at all," he said.
Mr. Madrigal said he didn't expect to share his nachos and tequila with the Commander-in-Chief. Before we let Mr. Madrigal get back to work, we couldn't resist asking Mr. Madrigal where he got his rather spiffy poncho.
"We've got closets full of ponchos," he said.
We're quite jealous we don't have a similar secret stash of ponchos, sombreros and tequila at Politicker headquarters. We realy ought to get on that.