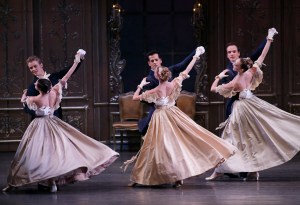 New York City Ballet's spring gala came and went, as galas will do, and left behind two unnecessary new ballets plus new costumes for Symphony in C, that Balanchine masterpiece to Bizet, that has been absent from the repertory for four years or so, God knows why. It's true that the Karinska costumes, which some of us have been looking at lovingly for a lifetime, had come to seem a little dowdy; why not freshen them up? The job has been done by Marc Heppel, the company's director of costumes, and though the result is a touch heavy—trying just a little too hard for a fashion look, with a sprinkling of tiny crystals (a nod to the ballet's original title, Le Palais de Cristal) and an over-determined cleavage—they'll serve.
Unfortunately, the performance itself was under-determined. The first movement ballerina should be a paradigm of strength and authority. Why give such a role to Megan Fairchild, essentially a soubrette, whose twinkle-toes agility lacks command and power? Colleagues tell me that she was stronger at her second performance, and she's a hard worker so that may well be true, but it's unfair to her as well as to us to give her the responsibility for a major role to which she simply isn't suited. Nor was I very impressed by Sara Mearns in the glorious second movement—she seemed self-conscious and even a little glum in what many consider Balanchine's finest ballerina role, with its profound blend of majesty and lyricism. The company's greatest ballerinas—from Tanaquil LeClercq, Allegra Kent and Suzanne Farrell down through Darci Kistler—gave us radiant, moving accounts of it; Mearns has a way to go. The brilliant allegro third movement, with its dynamic jumps and nonstop brio, was a triumph for Ashley Bouder and Joaquin De Luz, whose polish, the product of his strong Spanish classical training, is different in kind from the less-virtuoso style of the company's S.A.B.-trained men. In the fourth movement, Tiler Peck took charge and easily propelled the ballet to its thrilling finale. The corps looked prepared throughout; the tempi were pushed.
The new ballets were by Peter Martins and Benjamin Millepied. The theme of the evening was France (hence Bizet). Is it worth describing them in detail? As a responsible ballet master in chief will do on occasion, Martins gave his new ballet, Mes Oiseaux, to members of the corps—three young women and one young man, all highly talented. The music was a propulsive trio for violin, cello and piano by Marc-André Dalbavie; the costumes by Gilles Mendel were French-fashiony—cut-outs exposing patches of the dancers' skin, short black skirts with bright-color accents. This was one of Martins's more effective outings—he's always competent, usually empty, and occasionally stirring. There was nothing surprising here, but Les Oiseaux held together, a riff on the quintessential Balanchine grouping of a man and three women: Apollo, of course; Who Cares?; a central section of Serenade. The young man, Taylor Stanley—solid, strong, masculine, an excellent partner—has a big career ahead of him; the women—Lauren Lovette, Ashly Isaacs, tall, blond Claire Kretzschmar—are all well on their way.
Speaking of empty, Millepied has once again given us a template for emptiness. He's got the moves, he's got the glamour, he's got the connections, he just doesn't have anything interesting to say. This new piece, Two Hearts—irritating music by Nico Muhly; irritating modish costumes (black and white with ruffly effects) by Californian fashion designers Kate and Laura Mulleavy of Rodarte—is busy, busy, busy. As usual Millepied is more comfortable with small groups (duets, trios) than with larger ones, which in his hands always look cluttered and, yes, irritating. The commissions roll on in; the returns would be diminishing if they had anything to diminish from.
The rest of the season to date has been up and down. An all-Robbins program reminded me that his unpretentious duet Andantino from 1961 is elegant and pleasing, particularly when the featured ballerina is Tiler Peck, whose astonishing musicality and intelligence illumine every step she shows us. This has been a remarkable season for her, and the audience has caught on, despite the fact that she doesn't sell and she doesn't flirt. In fact, she could relax her principles and project a bit more personal charm on top of her dance charm—then, she'd be even closer to Patricia McBride, whose repertory she has partly assumed. McBride, too, could do everything.
Ashley Bouder has revealed new aspects of herself, softening her impact (it could hardly be hardened) with a welcome lyricism. Maria Kowroski has finally come into her own, finally accepting her ballerina responsibilities by overcoming her hesitations and revealing her stunning expansiveness and charisma. Sterling Hyltin has become another audience favorite, with her quicksilver attack and piquant prettiness. Alas, Sara Mearns has been frequently out with an injury.
Two other Balanchine ballets were back—one, Kammermusik No. 2, after a long absence. This Hindemith onslaught of a score is not lovable, and neither is the ballet: It's mechanical, driven, relentless—two couples, often in near unison—against a background of eight massed men, who act as one organism. How often did Balanchine use a male corps this way, apart from the nine "goons" in Prodigal Son and the male regiments in Union Jack? Since the men are so unparticularized, they further dehumanize a work that is far from human to begin with. We need to see Kammermusik occasionally, to ponder it, to acknowledge its virtuosity, and to give the dancers a chance to absorb it, but we don't really miss it when it's out of sight.
When Liebeslieder Walzer is out of sight, life dims. Surely this is one of the greatest and most original works in all of Balanchine. The rhapsodic Brahms songs swamp you with feeling when they're well sung, and this season they were (in the past there have been disasters), all four singers caught up in the beauty and poignancy of the music. In the '60s, Liebeslieder was appreciated by critics, not audiences; people would get up and leave the theater in the pause between the two sections. Today, the audience sits in rapt silence as the ballet's four couples play out the complexities, the subtleties, of their interaction and demonstrate the astounding fecundity of Balanchine's inventiveness and the depth of his emotion.