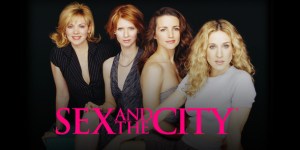 In 1998, the idea of four single gals out on the town talking about men the way men talked about them seemed scandalous, even for HBO. Yet the last time we saw our favorite foursome from Sex and the City–wearing burkas in Abu Dhabi, we believe–they had all but settled down. (Except for Samantha, obviously.)
But the real-life ladies who portrayed Samantha, Carrie, Charlotte, and Miranda have not been so man-obsessed as their post-feminist counterparts. Only Sarah Jessica Parker has remained married all these years to actor Matthew Broderick. Kim Cattrall has bounced around in three different marriages, including Larry David. Cynthia Nixon liked girls (not Girls) more than bartender Steve, and Kristin Davis' love-life was reduced in the tabloids to an image of her giving a blowjob.
Two years after SATC 2, and the ladies may have finally found their matches. Not that there is anything wrong with being single in the Big Apple…right ladies?

Coming straight off the wedding bells that rang yesterday for Ms. Nixon and her longtime girlfriend Christine Marinoni, the New York Post is now outing the finale two single ladies. Ms. Cattrall is rumored to be cavorting with multimillionaire multi-media artist Clifford Ross, who is in the process of divorcing his wife, Betsy Finkle Ross.
And Ms. Davis, in a very un-Charlotte fashion, has allegedly been spending her energies in the past month on charming Aaron Sorkin, that former coke-and-prostitute lover. Maybe that means a cameo in The Newsroom for the dainty brunette?
Hell, at this point we'd just watch a documentary about the love lives of the actresses from Sex and the City…they are far more interesting than the shacked-up caricatures they ended up as.