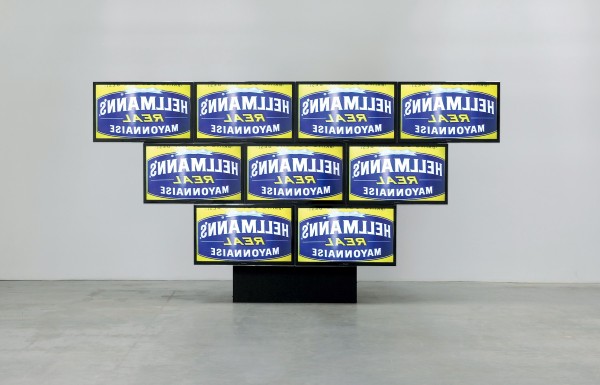 LAST WEDNESDAY AFTERNOON, a slight woman with grey hair styled in a short, spiky, pixie-ish cut was sitting on a sofa at the West Village gallery Gavin Brown's Enterprise, overseeing the installation of a three-part video piece she made that features short clips from television and the Internet, including flags waving, preachers preaching, Betty Boop singing, a frog jumping and a couple ballroom dancing. She is 82 years old and commanding. Her name is Elaine Sturtevant, but she prefers to be called Sturtevant. That's what it says on the announcement card for her exhibition, which features a close-up of the face of an inflatable sex doll. Sturtevant.
When Sturtevant tells you to write something down, you write it down. "You should write that down!" she said to us. Here is what we wrote down: "It's trying to give power to words and to articulate visibilities." She was talking about the video installation, called Elastic Tango. "I decided that taking video and producing that into a theater piece only by visuals would create a very dynamic piece of art," she said. "There are three acts; it's very classical."
It's strange listening to someone talking about words when you're writing. "So you take words and you make them thought," Sturtevant continued. "My show at the Museum of Modern Art in Paris did that extremely well, so that the visuals carried all the weight, and they articulated the thinking." Sturtevant lives in Paris. Things are going well for her in Europe. She currently has a retrospective at the Moderna Museet in Stockholm; it's the latest in a number of major European museum exhibitions she has had over the past decade.
Sturtevant is a thief, and a very wily one. Ask people about her, and this is what you're likely to hear: an interviewer once demanded Warhol reveal how he made his silk-screened paintings. "I don't know," he deadpanned. "Ask Elaine." He wasn't joking. Sturtevant made Warhol flower paintings shortly after he did, in 1964, using screens that he willingly supplied. She did his Marilyns soon after. She went on to repeat pieces by Duchamp, Lichtenstein, Oldenburg, Beuys, Stella.
Recently, one of Sturtevant's early films, a 1972 work called Warhol's Empire State, has been screening nightly on the High Line. It's a refilming of Warhol's eight-hour film Empire, a static shot of the Empire State Building. You watch the Sturtevant film on an outdoor screen, so that if you move a bit you see the actual Empire State Building. Watching Sturtevant's film, High Line curator Cecilia Alemani wrote over e-mail, is "like being lost in a hall of mirrors, in a continuous play of refractions between different time zones and different levels of reality and fiction."
STURTEVANT IS A HALL of mirrors. She remains little known in New York, where she lived and worked for years. She hasn't had a full American retrospective in nearly three decades, even though she is a clear, if peculiar, forebear—by decades—to the so-called appropriation art that has been the subject of a great deal of courtroom drama lately. "She's as much a mystic and as mysterious a character as you'd want to find in the art world," said James Harithas, who organized her 1973 retrospective at the Everson Museum of Art in Syracuse, N.Y. "I don't know any details of her life."
Neither does this newspaper, despite our best efforts. During our interview she asked to go off-record when we asked such questions; usually, she simply declined to answer. Relatively recent attempts to interview her have been Dadaist exercises. In 2009, she appeared onstage at the Walker Art Center in Minneapolis with curator Philippe Vergne and recreated an interview published in Frieze magazine in 2004, when she was in her mid-70s. "What film has most influenced you?" Mr. Vergne asked. "Any film by Quentin Tarantino," she replied nasally. "Because he is a concrete example of a vast, barren interior man—a big-time cyber jerk." A few minutes later, he asked who was currently her favorite musician. "Notorious Big." She used the word "big," instead of the rapper's acronym, and drew it out to a whine.
Here is how critic Nancy Princenthal put it in Art in America magazine seven years ago: "[S]he is nothing if not scrupulous about deflecting personal scrutiny, having long since turned herself into a more or less ageless, stateless androgyne." This much is on the record: she was born in Ohio in 1930, got her B.A. at the University of Iowa and moved, in the 1950s, to New York, where she earned an M.A. from Columbia. "I'm never going to tell you," she replied in a whisper, when we asked her what she studied. Then she told us. Sort of. "Basically it was seeking out the base of language. … Seeking out the power of language," she said.
"THERE ARE CERTAIN artists I call 'the rumors,'" said Bill Arning, reached by phone at the Contemporary Arts Museum Houston, where he's director. He mentioned the late post-Minimalist sculptor Bill Bollinger (whose comeback retrospective is at New York's SculptureCenter right now), Japanese outsider Yayoi Kusama and the indefinable Lee Lozano—all of whom were once known only by a handful of artists and art historians, but who now are achieving various degrees of fame. "Sturtevant was one of the great rumor artists."
In 1986, when Mr. Arning helped organize a Sturtevant show at the New York alternative space White Columns, she had just begun showing again after a break that began in 1974, a year after her Everson retrospective. ("I was writing, thinking, playing tennis and carrying on," is how she described that hiatus to the critic Bruce Hainley in a 2003 interview.)
At the time, appropriation was in full bloom, with artists like Richard Prince and Sherrie Levine taking other artists' works and making them their own. Mr. Prince rephotographed commercial imagery such as Marlborough ads, and Ms. Levine rephotographed iconic photographs by Walker Evans. "When the appropriationists came, it gave me negative definition, which is great because it gives you the ability to come in," Sturtevant said at Gavin Brown.
She wasn't copying the works—at root, a photographic process—but instead repeating them, mastering the actual techniques involved in their creation in order to make works that would look and feel as close as possible to the real thing. "She adopted style as her medium," is how MoMA PS1 curator Peter Eleey explained it to us when we called him. "At least early on, most of her work looks like other people's work, which makes it very challenging to describe and discuss."
Pro-appropriation critics pulled out their Walter Benjamin texts and argued that the art signaled that originality itself was on the wane. Sturtevant has never bought that line. "There's a difference between probing originality and saying it is the death of originality," she has said, explaining the thrust of her work. "You'd have to be a mental retard to claim the death of originality."
Sturtevant's work was, in its way, original, and it terrified the art trade. "Commercial galleries really didn't want to go near it because it was going to be threatening to all the things about scarcity and originality that they made their money on," Mr. Arning said.
She showed steadily in the 1960s and '70s, until her decade-long break, but it was never at the top galleries, even though she ran in the circle of Johns, Rauschenberg and others. When a Johns flag that was part of Short Circuit, a 1955 Rauschenberg combine, mysteriously went missing, Rauschenberg asked Sturtevant to produce a new one.
Though the era's most powerful dealer was a fan, he never decided to represent her. The artist and collector Doug Davis once recorded story about when Leo Castelli, dealer to Rauschenberg, Johns and Roy Lichtenstein, came to his home and saw a Lichtenstein study he didn't recall selling to Davis. "When I told him it was a Sturtevant, he gleamed with joy," he wrote. "We spent the entire lunch talking about her." In 1969, Castelli showed Richard Pettibone, who paints iconic Pop works (Warhol soup cans, Marilyns and Brillo boxes), often in miniature. Pettibones are illustrations of other works, not the result of actual repetitions. Sturtevant, on the other hand, "was doing Pop squared—taking these images that were already free-floating images and redoing them and thereby changing their authorship one more time," as Mr. Arning said.
But she wasn't only making waves with her repetitions. Being an outspoken woman likely didn't help her cause. "She took the swings and barbs out there in the '60s and early '70s," said Mr. Harithas. "The truth of the matter was that unless you were a white man, you didn't get a break. Women didn't get a break."
The curator Sylvia Chivaratanond, who showed Sturtevant's work at Perry Rubenstein Gallery in 2004 and 2005, concurred. "If you look at women artists of her caliber of her generation, they just weren't being looked at," she said.
But there she was, repeating the men, and in doing so opening herself up to all sorts of trouble. Mr. Harithas recalled Carl Andre screaming at her in a restaurant. "Her self-confidence was remarkable even though she didn't have that much of a following at the time," Bess Cutler, who showed her in New York in 1988, recalled in an e-mail. "She was very proud of her work and her 'project.' … And felt she deserved the very best, including a lavish dinner party after her opening."