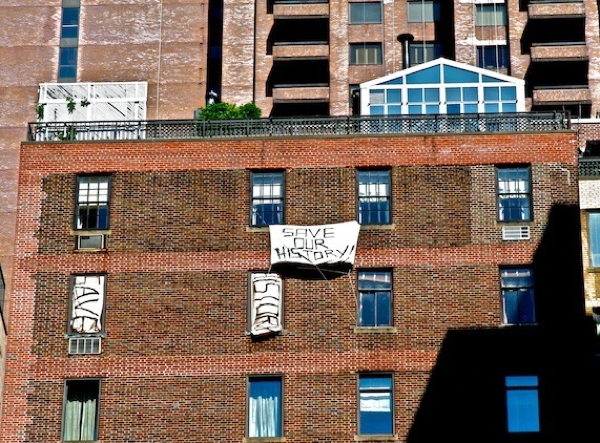 The residents of Carnegie Hill are not particularly experienced in protest techniques—they are more likely to walk through throngs of the demonstrators than to walk among them. But a new Toll Brothers development on Park Avenue has inspired angry Upper East Siders to take up the picket.
In a vertical city like New York, simple signs on sticks do not do much good, so neighbors have resorted to a more high-flying technique for their "visual protest" this morning, unfurling homemade banners from one of their buildings that read "Save Our History."
"We're all rookies at this, not professional protesters," said Lucinda Ballard, who lives in 1112 Park Avenue, right next to the two pre-Civil War townhouses that the Philadelphia-based Toll Brothers is almost certainly planning to replace with a tower, but has thus far refused to confirm.
Plans for something are certainly moving forward, however, and applications for building permits to remove cornices, replace windows and do "partial demolition," have been filed with the city.
Park Avenue Neighbors claim that the work is "clearly a first step toward razing these two historic buildings. The clock is ticking and the wrecking ball looms."
Limited liability corporation 89 Park Avenue LLC purchased both 1110 Park Avenue and 1108 Park Avenue in March, paying a total of $29.5 million ($16.5 million for 1110 and $13 million for 1108). Between the two properties, air rights allow for a 40,000-square-foot potential project (the Toll Brothers tower is rumored to be 15 stories).
Residents, particularly those of 1112 Park Avenue—who stand to lose not only the historic buildings but also their views—have launched a campaign to landmark the buildings, gathering hundreds of signatures on a petition to save the buildings and requesting an emergency meeting with Landmarks Preservation Commission chair Robert Tierney.
Wedged between two much-larger buildings and located outside the Carnegie Hill Historic District, the townhouses seem like obvious marks for development, but Ms. Ballard said that in the past, the owner of 1108 had assured them that he would never sell the property to a developer.
"This is not about disgruntled people losing their views. That is really not the issue," Ms. Ballard said. "These houses were built in 1856, when everything around them was cornfields, they are the oldest residential homes on Park Avenue north of 63rd Street. It is wrong to tear them down without a debate."
Although a request for Landmarks Preservation to extend the Carnegie Hill historic district from 86th to 96th Streets was filed two years ago, the request has not been calendared and residents are looking toward landmarking just the two townhouses to stop the construction work from damaging the buildings and weakening the case for preservation. They hold up the preservation of a historic horse stable in Greenwich Village as an example of what they hope to achieve.
"They're not architectural masterpieces, they were the houses of working class people and they tell a different story about Park Avenue," Ms. Ballard said.
For its part, Landmarks has not been particularly encouraging. "While it may be eligible for historic district status, the proposed district is not a priority at this time," spokeswoman Elizabeth de Bourbon wrote to The Observer. And views were not among the factors that the Commission considered, she told the The Wall Street Journal. "It is our job to protect the historic character and integrity of a neighborhood."
But if such traditional techniques fail, the group is not against adopting some very unPark Avenue-like tactics.
"This is the first time I've really been involved with anything like this," said resident William Simmons, sounding both surprised and excited to find himself in the role of protester. He admitted that he was a little disheartened by how small the banners appeared from the street, but not dissuaded from trying new and unorthodox methods.
"We're trying to figure out how to get our concerns in the public eye," Mr. Simmons said. "Do we take placards and go out and march? Maybe."
kvelsey@observer.com