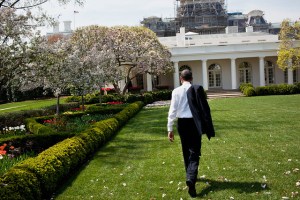 There's an interesting detail in the Associated Press' scoop about a new plot by an Al Qaeda affiliate in Yemen to mark the anniversary of Osama bin Laden's death by blowing up a passenger plane with "an upgrade of the underwear bomb that failed to detonate aboard a jetliner over Detroit on Christmas 2009." According to AP reporter Adam Goldman, the White House and the CIA both asked the news organization to keep quiet about the upgraded underwear bomb story.
"The AP learned about the thwarted plot last week but agreed to White House and CIA requests not to publish it immediately because the sensitive intelligence operation was still under way," Mr. Goldman wrote. "Once officials said those concerns were allayed, the AP decided to disclose the plot Monday despite requests from the Obama administration to wait for an official announcement Tuesday."
The White House has been quiet about potential terror threats related to the anniversary of Bin Laden's death.
"We have no credible information that terrorist organizations, including al-Qaida, are plotting attacks in the U.S. to coincide with the anniversary of bin Laden's death," Press Secretary Jay Carney said on April 26.
Similarly, the Department of Homeland Security said there was "no indication of any specific, credible threats or plots against the U.S. tied to the one-year anniversary of bin Laden's death" on May 1.
Update (5:58 pm): AP spokesman Paul Colford provided the following statement to The Politicker:
"This story developed after the anniversary of the Bin Laden takedown.
The main thing is that we did not put anything on the AP wire until the security concerns that had been brought to our attention were allayed.
We moved it today, ahead of the 'official announcement' planned for tomorrow."