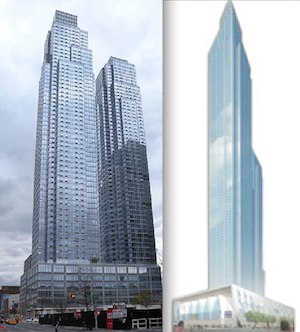 The boom is back on the Far West Side.
In addition to the Related Companies and Brookfield's work at Hudson Yards, and now Extell's reappearance on the scene, Larry Silverstein is moving forward with a new 60-story residential tower on West 40th Street, according to The Real Deal. It will be on the same block as Mr. Silverstein's twinned Silver Towers, which also rise to 60 stories, which should make for an interesting trio on the skyline.
The Real Deal takes a particular interest in the retail space:
The new project at 514 11th Avenue, between 40th and 41st streets, is in the early stages and has not been formally announced, a source familiar with the development said. While the overall size of the building has not been laid out, the retail portion of the project is expected to be between 150,000 and 250,000 square feet, a source familiar with the developer's discussions said.
Those ground floors are important to driving development, apparently, because Mr. Silverstein is also eager to get his old friends at the Port Authority to take space in another neighboring tower project, where he hopes they would park their buses, and presumably provide some money to help get the project of the ground and persuade banks in making the necessary construction loans.
The project is also down the block from the 62-story MiMA, meaning things sure are getting crowded by the river. If only they could open that extra 7-Train stop.