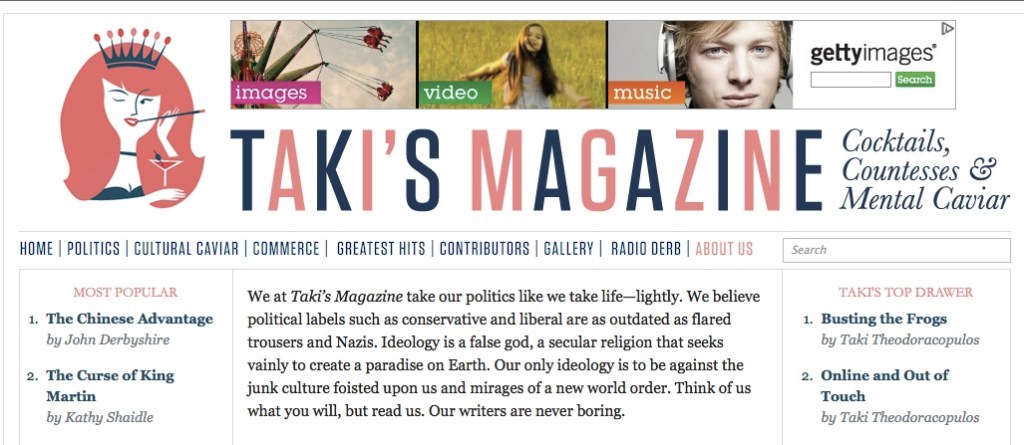 Naturally, Mr. Derbyshire is still writing for Taki, who a few weeks after the notorious blog post was sitting in the Midtown restaurant Cognac, spooning up pink lobster bisque and chasing it with two large glasses of pinot grigio. Between bites, Mr. Theodoracopulos gossiped about his time working for—where else?—The New York Observer.
"I called A.M. Rosenthal from The New York Times 'Abie,' and his wife thought that was anti-Semitic," he recalled in his languidly aristocratic accent. "How is that anti-Semitic?"
A genial man in a dapper blue suit and sparkling cuff links, Mr. Theodoracopulos bore a strong resemblance to Anthony Hopkins. He remembered being called into the office of then-owner Arthur Carter after Mr. Rosenthal's wife, Shirley Lord, called to complain.
"Arthur would say 'What is the problem, Taki?'" Mr. Theodoracopulos laughed. "I'd tell him, 'The problem is that I've run out of shoe polish, Arthur. Would you mind if I took some from your hair?'"
He smiled.
"You get it?" Mr. Theodoracopulos asked. "Because his hair always looked like he rubbed it with shoe polish!"
When Fraser Nelson took over as editor of the Spectator, where Taki contributed a regular column, he jokingly told the columnist he would be fired. "He said, 'No one is complaining about you anymore, Taki, so why are we paying you?'" Mr. Theodoracopulos recalled, snickering like a man who was having the last laugh. And perhaps he is.
In his inaugural editor's "diary," Mr. Nelson noted a change in the air. "It's not that Taki is conforming to the world," he wrote. "The world, I think, is finally conforming to him."
Racial resentment seems especially uncharitable coming from someone like Mr. Theodoracopulos, a jet-setting playboy of good standing. His father, in addition to being an Olympic gold medalist in rowing, was a shipping baron. His grandfather, Panagiotis Poulitsas, was briefly the prime minister of Greece. After a career as a professional tennis player, and a short stint working in his father's offices, Taki was recruited by Arnaud de Borchgrave, then senior editor of Newsweek, to go to Vietnam as a photographer.
"I didn't want to work for my father, I didn't want to be a shipper, or a tycoon's son," Mr. Theodoracopulos said of his beginnings in journalism.
He's been married twice, currently to his wife of 31 years, Princess Alexandra Carlota Sophy von Schoenburg-Hartenstein, and has two children, "who have never disappointed me," he said. His son, J.T., is a bike messenger; his daughter, Mandolyna, runs Taki's Magazine. "She is actually the brains behind the site, because I don't really read the Internet," Mr. Theodoracopulos told us proudly.
The idea for the Web site came about after Mr. Theodoracopulos ceased his involvement with The American Conservative in 2007.
"At a certain time, I had to take a step back and say 'Do I want to keep giving millions of dollars to magazines that no one reads, or something else?'" he recalled. Mandolyna, who spent the '90s working for publications like Hamptons Magazine and, yes, The New York Observer (as a fact-checker under Graydon Carter, who not only hired her father for his original tenure at the Observer, but who went on to employ both father and daughter at Vanity Fair), then took off a decade to work as an interior designer before returning to journalism.
"I made peace with my dad years ago," the London-based Ms. Theodoracopulos told us over the phone. "It's really nice to have a family business."
The only area where she and her father disagree, she told us, was the Middle East. ("I'm not saying Israel shouldn't exist," he said, "but they need to give back the occupied territories.")
"Be nice to my dad," Ms. Theodoracopulos warned before hanging up. "He's one of the nicest, sweetest men you'll ever meet."