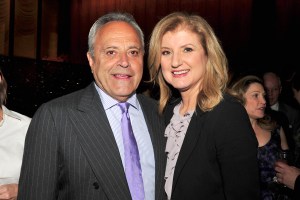 MR. THEODORACOPULOS can be charming in person, which might explain how he's been able to maintain some of his social cachet despite his disreputable opinions. Though he credits William Buckley at the National Review with giving him his first job, it wasn't until he started his High Life social column in The Spectator that he found his niche. "I was a natural," Mr. Theodoracopulos said. "People couldn't believe what I wrote in High Life, but I didn't care about access, I already had access. I knew what was going on. You have to get your foot in the door writing what you know about, and this was what I knew."
That particular beat has shrunk with time. "Society doesn't exist anymore … or if it does, it doesn't go out," Taki sniffed. He is ditching his London home because, he explained, the city is "becoming overcrowded with Arabs." He is more often found in his apartment on East 71st Street and is plotting a sailing trip to Cannes, where, he said, he will be shooting a movie with Norman Mailer's son Michael.
During lunch, Mr. Theodoracopulos employed a number of epithets for various ethnic and racial groups. The n-word rolled off his tongue. He was unapologetic about his use of such terms, and made us uncomfortably complicit by leaning in conspiratorially and smiling while saying some of the more horrific things we've ever heard outside of a Quentin Tarantino film. He expressed disgust for professional athletes: "They have 12 kids and beat up on their wives, and she can't go to court because she's black and doesn't have an education." He praised Robert E. Lee and condemned Abraham Lincoln as "a murdering traitor." He chuckled as he told us the story of a controversial Sunday Times editorial he once wrote: "I said that I thought I saw a gorilla once at Wimbleton. It was Venus Williams."
Asked if he considered himself racist, Mr. Theodoracopulos shrugged. "It was very bad taste, but blacks make fun of us, why can't we make fun of them?"
Unsurprisingly, Mr. Theodoracopulos's mouth has gotten him into trouble over the years. "In this country, there are tremendous libel suits … I've lost five libel cases myself," he told us proudly. "Not four. Five."
He sat serenely while we probed him about his xenophobia, then worked himself into a lather about the Saudis. "They are the ones who finance all the terror," he said. "They eat their own shit. And we're supposed to call them royals? These are not royal families … I call them 'ruling towelheads.'"
But even as he flaunted his most noxious opinions, Mr. Theodoracopulos was oddly eager to clear the record on at least one charge against him. Asked about an article in which he referred to himself as a "soi-disant anti-Semite," he bristled.
"No! Everyone gets that quote wrong, because they don't speak French. Soi-disant means 'so-called.' I am saying that everyone else calls me an anti-Semite!"
As in most matters, his opinion on this differs from that of the media. As The Guardian wrote, in fact, the term is generally translated as "self-styled." Mr. Theodoracopulos indignantly told us that he had spoken French for most of his life and knew better than journalists what the translation was.
As if to prove that he had nothing against Jews, he continued, "All my WASP friends in America say, 'What happened to our money, Taki?' And I tell them, 'You drank it all away, and the Jews and n—ers were able to get it."
It seemed like a good time to mention we were Jewish.
"And you don't drink a lot, do you?" Mr. Theodoracopulos replied with a smile. "You can't ever say that the Jews are drunks. The WASPS are drunks."
With that, the Greek socialite motioned for the waiter and ordered us a second glass of white wine. As it turned out, Mr. Theodoracopulos was right about one thing: we spent the rest of the day nursing a massive headache.