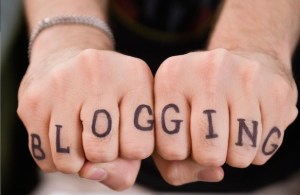 Cover your ears, MFA rejects, conceptual poets and other miserable literary types. Yesterday, Publishers Marketplace (subscription required) yielded two new blog-to-book deals. Three if we count Hairpin domestic goddess Jolie Kerr's My Boyfriend Barfed in My Handbag.
Meet the newest bloggers-turned-authors:
Colin Hagendorf is the author of Slice Harvester, a blog that reviews the cheese slice at every pizzeria in Manhattan but is really about punk rock, the patriarchy, being broke, etc. (Occasionally he prints, binds and sells the posts as a zine.) This week, Mr. Hagendorf sold a memoir about "eating a cheese slice from every pizzeria in Manhattan while falling in love, getting sober, and becoming an internet phenomenon" in an exclusive submission to Sarah Knight at Simon & Schuster. He is represented by Julia Masnik at Watkins Loomis. If you're not jealous of his book deal you will be of his physiology: dude does not appear to have gained a pound from his caloric canvassing.
Mac Lethal is a Kansas City Rapper behind the fake iPhone screenshot Tumblr Texts from Bennett. (Tumblr, you should really start your own imprint.) He's sold a "modern epistolary novelization" of the blog, "about a hard-working rapper whose colorful nephew comes to live with him," to Adam Wilson at Gallery Books, also Simon & Schuster. He is represented by Britton Schey at William Morris Endeavor. Mr. Lethal's editors might be happy to know that he has demonstrated in rap his understanding of the difference between "your" and "you're."
We hear a handful of Thought Cataloguers have also sold books recently but, for now, we'll spare those graduating with expensive literary arts degrees this week the psychic trauma of hearing all about it.