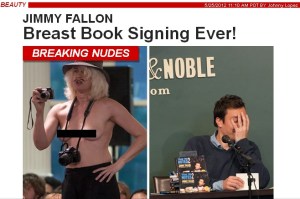 Oh, Topless Paparazzo. You are like Batman. You show up when the city needs you, really needs you, and have the element of surprise of all your victims! The nefarious Bill Cosby? Ka-PLAT! The dastardly Commissioner Ray Kelly? Pa-CHOW!
Jimmy Fallon signing books at Barnes & Noble? Be-WOP!
Wait, actually we have one question…

Did Jimmy Fallon, that bag of hair and teeth, really write a book all by himself? Why, that is impressive.
Secret Paparazzo, hats off to you. May no one learn your secret identity as regular gal about town, Holly Van Voast. Whoops!