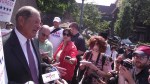 Congressman and U.S. Senate candidate Bob Turner ventured up to Buffalo today to knock the Obama administration over a mandate that requires religious institutions to provide insurance for birth control.
The mandate is the subject of a lawsuit by Cardinal Timothy Dolan and the Buffalo Diocese.
"As we are about to celebrate Memorial Day and honor the service men and women who have fought to protect our freedoms, New Yorkers should rally behind the more than 40 religious organizations across the country who have been forced to sue the Obama Administration over infringement of their First Amendment rights," said Mr. Turner.  "President Obama has made a reckless and unconstitutional expansion of the federal government the primary focus of his administration and this latest threat to religious liberty is yet another example. Trampling over the First Amendment is a bridge too far and Mr. Obama will have to account for his actions with the millions of voters who support a fundamental American right of freedom of religion."
A press release on the event describes Congressman Turner as "an an outspoken critic of the Obama Administration's flagrant disregard for the United States Constitution."
Mr. Turner has been having a good week. Earlier this week he was endorsed by former Mayor Rudy Giuliani, and polls show him with a slight lead over lawyer Wendy Long and Nassau Comptroller George Maragos in the GOP primary.
The winner will face off against Kirsten Gillibrand in November.