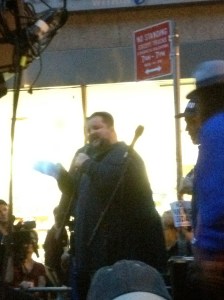 Transit Workers Union Local 100 President John Samuelsen doesn't want members of his union to help the NYPD transport protesters arrested at Occupy Wall Street's May Day demonstrations. Mr. Samuelsen marched with Occupiers and union members from Union Square to Battery Park this evening and, at the end of the route, he made a speech where he urged transit workers to "resist orders" given by "the screws" to drive buses full of arrested protesters. 
Mr. Samuelsen, whose union has been locked in bitter contract negotiations with the MTA since January, finished his speech by referencing this week's now infamous living wage bill rally where a protester angered Michael Bloomberg's ally, Council Speaker Christine Quinn, by calling the mayor "Pharaoh."
"We don't transport political prisoners arrested by Pharaoh Bloomberg!" he said.
At last October's Brooklyn Bridge march the NYPD where 700 protesters were arrested, the NYPD commandeered three city buses to carry arrested demonstrators. TWU subsequently went to court to fight against the city making them help trasnport arrested protesters. According to the NYPD, "approximately 30" protesters have been arrested so far on May Day.