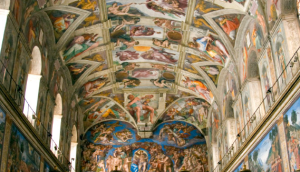 On opening night of Takashi Murakami's show at Gagosian Gallery in Rome in November 2010, Mr. Gagosian took Mr. Murakami along with some 100 guests on a private tour of the Sistine Chapel and a dinner in a sequestered room of the Vatican filled with marble statues.
While private tours of the Vatican have long been the privilege of the monied and powerful, an Italian company now offers private access to rooms of the Vatican normally cloistered and guarded by velvet ropes. Dark Rome Tours and Walks, a company which sounds like it should be giving ghost tours, promises 30 minutes, after hours, in the Sistine Chapel without pesky tourists. The 'VIP Vatican & Private Sistine' tour also gets you a private tour with a Vatican guard who will lift ropes and open doors to allow you to see the famous spiral staircase of Scala del Bramante and a secret chapel within Vatican walls with frescoes earlier than those of Michelangelo's.
For roughly $290, per person, you too can have your own private viewing. It won't be quite like having Mr. Gagosian there, but it's a start.