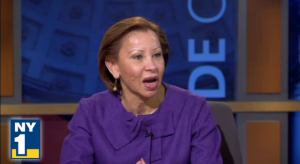 Over the past week, Congresswoman Nydia Velázquez and her main challenger, Councilman Erik Dilan, have both went on Inside City Hall on separate occasions and make the case for why voters of New York's 7th Congressional District should elect them. Notably, when it came to pointed barbs, they criticized each other's ability to enact important legislation in Washington D.C.
"Where was my opponent, as chairman of the Housing Committee in the City Council, where was he in terms of securing the city government funding to provide for those housing developments?" Ms. Velázquez asked after touting her own efforts to get federal funding for public housing in her district.
For his part, Mr. Dilan made his criticism even sharper.
"The rationale for the candidacy is that I absolutely want to see better representation for my district," Mr. Dilan said. "We've seen very few measurables in terms of what she's been able to produce over 20 years and I'll put my record in 10 years in the Council up against hers any time."
"Certainly I would have been an advocate in terms of getting more legislation passed, I think she's got very few legislative items done,"  he added later, likely referring to the New York Daily News declaring her to be one of the least active members of the New York delegation last year, or similar reports. "For my record, there are very few members that have passed more legislative items than I have."
Asked about Mr. Dilan's criticism last week, Ms.Velázquez's spokesman George Arzt wrote a long statement giving example after example of things she's accomplished, of which this is just a small sample:
Rep. Velazquez also developed funding for health, housing, education, employment and community improvement in her district, including over $465,000 for an oncology program at Queens Medical Center, over $325,000 for a micro-loan program, $500,000 for school-based health centers operated by Woodhull Medical Center, $250,000 Asian American substance abuse treatment, over $400,000 to expand Head Start operated by Brooklyn Chinese American Association, almost $200,000 to increase access to the Bed-Stuy Family Health Center and $450,000 for the Brooklyn Heights Association to increase green space and make other neighborhood improvements.
"Clearly when a candidate has no record, he just throws something against the wall and hopes it sticks to someone," Mr. Arzt wrote.