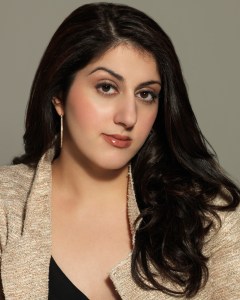 There's a book party at Tao next week, but its guest list looks more like a Davos reunion. Among the yeses: ex-Chairman of the Fed Alan Greenspan, Nobelist Joseph Stiglitz, Pershing Square boss Bill Ackman, and Financial Times editor Gillian Tett.
Assuming they show, that's not a bad draw for a first-time author. Then again, The Alpha Masters, by 27-year-old Squawk Box producer Maneet Ahuja, isn't just any book. Like the party, the book is an impressive feat of investor-wrangling, a collection of insider accounts from low-profile, high-powered hedge fund managers like John Paulson, Marc Lasry and David Tepper. It's out on May 21 from Wiley.
During a midday break in a windowless office at Squawk Box network CNBC headquarters in Englewood Cliffs, NJ on Friday, The Observer asked Ms. Ahuja if her elusive subjects would be celebrating their portrayal in Alpha Masters. "I haven't checked the R.S.V.P. list, um, in the last hour," she said. "I was advised not to harass for updates."
Harassment—or tenacity, some might say—is Ms. Ahuja's calling card. The Alpha Masters, and a related rash of exclusive CNBC gets, including blue chip investors like Ray Dalio and Eddie Lampert, earned Ms. Ahuja a reputation as one of the best-connected young producers in television. Forbes's "30 Under 30" and Elle's "Genius" lists have identified her as a kind of Hedge Fund Manager Whisperer. And now, after four years behind the scenes, she's diligently training to become an on-air reporter.
"I knew some of these guys from a prior lifetime," Ms. Ahuja, wearing a yellow boucle jacket and close-up friendly long lashes, said casually.
Prior to joining CNBC in 2008, Ms. Ahuja parsed financial data for the Wall Street Journal and turned down a job with George Soros. When explaining her quick rise, Ms. Ahuja relies heavily—and graciously—on the notion of good luck. She was "fortunate" to land an internship on Wall Street at seventeen, and it was "just chance" that her supervisor never came back from maternity leave.
Once she'd assumed her old boss's duties, it was auspicious that the deans at Columbia helped Ms. Ahuja arrange her class schedule to allow her to work three 12-hour days a week at Citigroup and, later, Merrill Lynch, where it was sheer providence that she was allowed to dabble in a small hedge fund called Endeavour Capital.
It may have been "the luck of the draw" that her first assignment at Squawk Box was to prepare for an appearance by David Einhorn (who was quickly becoming one of the world's most famous hedge fund managers for his Lehman Brothers short), but after that it would be hard to argue that Ms. Ahuja didn't arrive under her own steam.
Impressed by her facility with a balance sheet, Mr. Einhorn became a point of entry to the world of messianic money managers. Still, it took two to three years of "bordering-on-stalkerlike activities" to get access to the book's other characters.
"Maneet is a force of nature," said Jonathan Wald, a former CNBC exec now at CNN. "Anybody who has dealt with her or who has been on the receiving end of her assault knows that's true."
She chased down money managers at industry events, interviewed their investors and friends, cajoled their lawyers.
"You say, 'No, no, thank you,' and Maneet just keeps calling back, incredibly polite and incredibly persistent," said Sallie Krawcheck, the former Bank of America head of wealth management. "So when you are ready to say something, she's at the top of your mind."
Ms. Ahuja modestly chalked it up to her press credentials.
"I felt very fortunate to be calling from CNBC, a platform that people trust and recognize," she said, noting that Squawk Box is "watched in the White House."
Last month CNBC shrugged off a Daily News report suggesting that execs were "freaking out" over Squawk Box's declining ratings. The network had always been more interested in a small but influential audience, they said, one that Nielsen's not great at keeping tabs on.
Sure, CNBC has a reliable audience among bankers who wake up to check the Asian markets and like to ogle Becky Quick, but with cable news viewership down more broadly, it's the big-name interviews that have the ability to generate buzz.