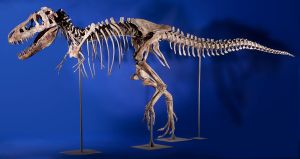 Who among us has not dreamed of one day owning a life-sized Tyrannosaurus Rex skeleton, like the one in the lobby of Jurassic Park that eventually gets destroyed when the real T-rex does battle with the raptors? Next to owning an actual dinosaur, a dinosaur skeleton is the next best thing, especially since it can't turn against you and eat all your loved ones.
Unfortunately, The Natural History Museum has a nasty habit of buying up all the dinosaur bones and keeping them out of the hands of private owners, so they can charge their exorbitant museum fees and not let you even touch the 70-year-old fossils. Lame.
But that will all change this Sunday, thanks to the best auction item in the history of New York: an 8-foot tall, 24-feet wide Tyrannosaurus bataar.

The 70-80% complete specimen will be sold to the highest bidder during the Natural History & Fine Minerals Signature Auction (facilitated by Heritage Auctions). The live auction will take place May 20th, 12 p.m. CT, at 548 W. 22nd St. It is the first Tyrannosaurus skeleton to be auctioned since 1997, when dino "Sue" sold for $8.7 million. You can currently place bids for the T-bataar online, where the reserve amount begins at $875,000.
The lot description is pretty amazing:
This is an incredible, complete skeleton, painstakingly excavated and prepared, and mounted in a dramatic, forward-leaning running pose. The quality of preservation is superb, with wonderful bone texture and delightfully mottled grayish bone color. In striking contrast are those deadly teeth, long and frightfully robust, in a warm woody brown color, the fearsome, bristling mouth and monstrous jaws leaving one in no doubt as to how the creature came to rule its food chain. Equally deadly and impressive are the large curving claws, with pronounced blood grooves. The body is 75% complete and the skull 80%, and it is mounted on a discreet gray-painted armature. Measuring 24 feet in length and standing 8 feet high, it is a stupendous, museum-quality specimen of one of the most emblematic dinosaurs ever to have stalked this Earth. Bone map and restoration details available upon request. Estimate: $950,000 – $1,500,000.
Equally dead and impressive, like Johnny Depp in Dark Shadows! We can feel our bidding finger itching.
If you can't afford the hefty price-tag, check out some of the Natural History's other lots, which include a Dodo bird skeleton cast (bidding currently at $4,250), a full-scale taxidermy tableau of a lion eating a warthog (reserve amount at $11,000), or a giant sawfish rostrum (current bid at $900).