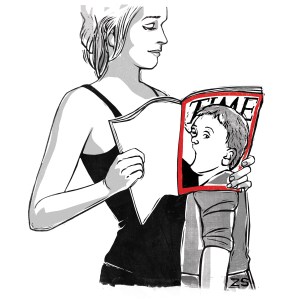 I was breastfed until I was 4 years old. Or 5, maybe. My mother has always been fuzzy on the exact math. I choose to go with 4, because as it is, people tend to look so shocked that I'm afraid their lower jaws might actually fracture were I to add a full year to my tenure suckling on what I reportedly liked to call "nippy."
As you might imagine, this information became humiliating to me right around the time I sprouted my own breasts (sixth grade or seventh grade, depending on which breast you want to date from—they were Irish twins). It didn't help that my mother, a childbirth education teacher, liked to brag about it to her equally liberal-minded friends and colleagues. But hindsight tends to put things into perspective, and so while I might still harbor some adolescent shame, I must at least give my mother retroactive props for not posing on the cover of a national magazine with me latched to her breast.
When I clicked the link to TIME's recent "Are You Mom Enough?" cover I was, coincidentally, breastfeeding my nearly 8-month-old son while idly scrolling through my Facebook feed. When I saw it, I cringed, and not because of the little towhead in camo cargo pants staring out quizzically with a faceful of aureole—my first instinct was to give him a fist bump of solidarity—but because I could instantly see the national titty fit that would ensue. The tweets, the blog posts, the op-eds and the seemingly straight reporting would all pack a subtly judgmental punch. Breastfeeding, like sleep-training or circumcision, is one of those topics sure to incite riots in the never-ending "mommy wars," a largely online conflict forever hovering at a tedious and hostile stalemate that more or less boils down to "Parenting: You're Doing It Wrong." The TIME article was bait for pearl-clutchers and co-sleepers alike, and it worked.
Now, I don't believe many people—excepting, perhaps, those who stand to profit from formula sales—would seriously argue that breastfeeding for some length of time isn't a good idea, assuming the mother is capable. The American Academy of Pediatrics currently recommends breastfeeding children for at least their entire first year of life, and even noted misogynist Rush Limbaugh has advocated for it on his show. But the cultural sticking points remain duration and location. "If they can ask for it, they're too old," is a common refrain, and many opine that breastfeeding outside the home should be avoided whenever possible. Some go so far as to liken babies dining al fresco to public urination.
Having been raised by civil rights champions, my feelings on the topic have always been best expressed (as so many things are) by Shakira lyrics: Whenever, wherever. But I understand that I am an outlier, so I turned to a few lactating friends for research. (I wanted to poll my fellow Park Slope Parents, but after my last column I received a stern email from the chair of the advisory board chastising me for my "breach of netiquette" in quoting from the email threads, and revoking my membership. Two weeks later, however, I am still receiving a dozen daily Yahoo blasts, which I can only assume is a part of my punishment.)
One friend, a WASP-y type who has literally clutched her pearls in my presence, weaned her baby after three months of harrowing hooter hiding on the Upper West Side so that she could go back to work. She brought this up in a mother's group and was met with pitying stares, the kind most New Yorkers reserve for people trying to score a walk-in table at Momofuku Ko. Another, a part-time working mom with an Aretha Franklin-level rack, stopped at seven months simply because of the physics involved, especially in mixed company. A third is happily breastfeeding her 1-year-old with no plans to stop anytime soon and has casually eaten dinner with her in-laws while completely topless.So I don't know where that leaves me. Sometime before kindergarten. Somewhere between "under cover of Slanket" and "on the cover of TIME."
Breastfeeding is hard. It's harder than it looks, and that goes double if the person you see breastfeeding is doing it in a crowded space (I consider surreptitiously feeding my baby on a rush-hour subway my most significant athletic achievement since winning an 800-meter race at a high school track meet in 1997). Choosing to breastfeed means sacrificing time, energy, ownership of your body—and the majority of your most flattering tops. It also often means willingly inserting your nipples into suction cups and standing in your office bathroom stall like a Holstein while your co-workers are grabbing lunch and taking smoking breaks. It means shoeless haggling with TSA agents over coolers full of breast milk and watching helplessly as two wet blossoms spread across your chest when a baby cries within earshot during lunch with your boss.
What I'm saying is, it's not nearly as easy as public urination. It's an endeavor that most women do not take lightly—especially if they choose to do it for a number of years. It is also not a sexual act. It's not fair for us as a culture to make breasts into comically carnal advertising orbs used to fill Victoria's Secret Very Sexy® Crochet-lace Demi Bras and sell beer and then deny them their primary biological function, just because we've gotten used to having to enter a credit card number in order to see someone's nipples.
So, to the question: Are you mom enough? Unless you've appeared on Toddlers & Tiaras instructing your over-caffeinated 4-year-old to say "a dollar makes me holler," the answer is probably yes. If you love and support your children, chances are they will turn out fine, or at least no more emotionally scathed than the average person, which works out to roughly three cumulative years of therapy. Incidentally, having breastfed well past the age of the boy on the TIME cover, I'm thrilled to report that I am not—according to The New York Times Magazine's recent checklist—a documented psychopath. And I'm going to milk that for all it's worth.
editorial@observer.com