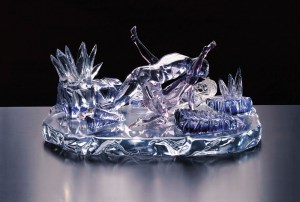 We stopped by our columnist Adam Lindemann's new gallery yesterday while he was installing his first exhibition called "À Rebours," an attempt to sort of reimagine the world of the Duke Des Esseintes from the famous 19th-century Huysmans novel of the same name, using pieces by Redon and Moreau (the fictional duke's favorites) as well as contemporary art and a hodgepodge of other things. (n.b.: This is not a review. We stopped by. We checked it out. We edit Adam Lindemann; we don't always agree with him.)
The gallery is on the third floor of 980 Madison. On our way up, the elevator doors opened briefly on the  second floor to reveal signage for something called the Exhale day spa. We almost got out there, reader, we almost got out there.
But we didn't! Instead we banged on Adam Lindemann's blacked-out doors until someone let us in. It was dark inside. That is purposeful, as the place is meant to evoke a kind of spotlit palace of decadence. (Similar, it must be pointed out, to dealer and collector Axel Vervoordt's Palazzo Fortuny exhibitions in Venice during the Biennale.) The first thing you see are two candelabra by the French artist Cesar ("who is very out of fashion right now," Mr. Lindemann interjected) flanking a small painting by Moreau ("French Symbolism isn't hot right now," Mr. Lindemann again. "It's very cold").
Turn the corner and you get a sculptural bust of what appears to be an executioner with a long tongue lolling out of his hood by contemporary artist Jonathan Meese ("Someone who's out of favor right now"–Lindemann)—and then it's on to the main space where you can see immediately that everything is very raw. Very, very raw. Raw walls, raw ceilings, exposed beams, sheetrock walls, that sort of thing. All that rawness didn't come easy! Remember, this used to be a Vera Wang bridal boutique; it was, apparently, stripped down with great care. (The bridal boutique stripped bare by …never mind.) Now it has a warehousey feel. It is, you might say, very contemporary. "I like the idea of a space that doesn't have any design," Mr. Lindemann said. "Of course this is a design! It's been done in a very aesthetic way. We had to make it look very tidy. It's a curated rawness." (Hm. "Curated rawness." We're pretty sure this is the sort of basically oxymoronic thing the 1990s literary magazine Hermenaut meant by "fake authenticity")
But, anyway, on we go. There's a show-stopping tribal-looking mask from the 1990s by David Hammons (a Lindemann favorite) with a mirror on its snout. There's a very weird and kind of frightening new bronze sculpture by Hope Atherton of a ghoulish creature with multiple sets of teats running down its belly. There's an Andy Warhol "celebrity series" portrait of the American Indian Russell Means—it's from Robert Rauschenberg's collection which, remember, was on view in another gallery upstairs from Mr. Lindemann's called…give us few minutes we'll remember the name—and Means' mug is hanging above a shrunken head from the Amazon and a set of cannibal daggers from Papua New Guinea. The rear row of daggers is made from wild boar bones. The front row is made from–wait for it–human bones, and come from Mr. Lindemann's collection. (That's worth repeating. Those daggers made from human bones belong to Adam Lindemann. We are going to be a much nicer editor from now on. Maybe.)
There's a big new Piotr Uklański textile piece hanging from the ceiling that we said looks like a giant face and Mr. Lindemann said evokes female genitalia–it is, let's say, strategically spotlit. There's a Dan Colen tar and feather painting. To its credit, it retains some of that freshly-laid-street smell. But the coup de grâce in this room promises to be a letter, on a scroll, from James Lee Byars to the L.A. art dealer Eugenia Butler, who, as Mr. Lindemann told the story, had something of a breakdown that involved her donning a bunny suit with holes cut out of the chest to reveal both of her mastectomy scars.
We forgot to mention the Banks Violette chair on fire. We forgot to mention the Lucas Samaras video, hung low on the wall, offering a prismatic view of the artist deboning a chicken carcass (that's a good one) positioned next to an erotic sculpture by Jeff Koons from the '80s that shows him poised above porn star La Cicciolina, his then wife, just about to consummate things. (Mr. Lindemann's gallery, it's worth pointing out, is called Venus Over Manhattan, after the allegorical figures on the building's facade. And here we have Koons over Cicciolina. Hm.) It's made of translucent material and is spotlit from above. (Los Angeles Museum of Contemporary Art director Jeffrey Deitch paid a visit while we were touring the space, and said he'd never seen this piece displayed better, which means a lot, actually, since he is a Koons expert: the artist reportedly once called him his "best friend.") We also forgot to mention a wall of paintings and works on paper in an intimate gallery-within-a-gallery that includes Redon's charcoal drawing below which is a vitrine from the late Dash Snow containing the artists' pill bottles, bones, handcuffs and other detritus from his short but intense life.
There are other things here, but why spoil it? Earlier we skimmed over a chair on fire, by Banks Violette. It only looks like it's on fire; the chair, a cheap black plastic chair, is toppled on the floor and the flames rise from burners. Nearby is a very small painting by Salvador Dalí of what might happen when a woman's hair comb mates with a human skull. Around the corner from that is a painting George Condo made specifically for the show, an imagined portrait of Des Esseintes. The duke's nose is flattened here, and he looks a little clownish. Which maybe all decadent figures do. Look a little clownish, that is.
Then we remembered the name of that place upstairs and went there and saw a Picasso show.