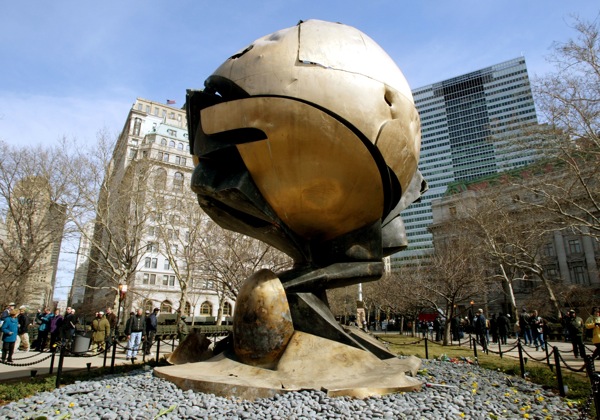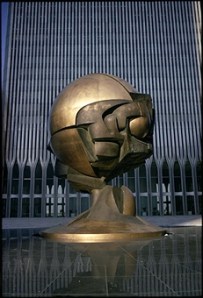 Two weeks ago, Port Authority executive director Pat Foye announced that the agency had found a new home for Fritz Koenig's Sphere, the sculpture that once graced the middle of the World Trade Center plaza and was nearly destroyed on 9/11. After the attacks, the giant bronze orb, now greatly dented but otherwise intact, was installed in Battery Park City, viewed by many as a sign of the city's resilience.
"Next week, the Port Authority will announce a new temporary home for the Koenig, the iconic bronze sculpture that miraculously survived the 9/11 attacks on the World Trade Center," read an email that showed up unprompted in newsrooms across the city on May 11.
Only thing is, that week, as well as this week, have come and gone without any further news.
The Sphere is being moved because renovations are underway in the park—for, heaven forefend, a bike lane among other things—and the Port has been trying to find the sculpture a new home. The hope was to move it back to somewhere on the World Trade Center site, but since that is still under construction, and renovations to Battery Park cannot wait, it has to be moved. That decision has enraged many 9/11 families along with other New Yorklers.
Earlier this week, Mayor Bloomberg told reporters, "I think it's beautiful where it is." (Never mind it is his Parks Department redoing the park that has necessitated the move.)
The challenge for the Port is finding a site suitably public and presumably downtown to accommodate the hulking sculpture—Mr. Foye said as much in the rest of his May 11 statement:
We have worked tirelessly to find a new, accessible public space for this important symbol of hope amid devastation. We believe this sculpture should continue to reside in a location where New Yorkers and people from around the region, nation and the world can view this important reminder of survival and resilience. Since my arrival at the Port Authority, I have been committed to finding both a temporary and permanent home in the public domain for this cherished and historic monument.
So why the radio silence? As with everything World Trade Center-related, these things take time. There is no mysterious plot afoot, the deal has not fallen through, the details are simply being worked out, according to the Port. Still.
"The Koenig Sphere is a symbol of our nation's resilience amidst the unimaginable," spokeswoman Lisa MacSpadden said in an email statement. "Identifying a new temporary home that is befitting of this cherished artifact as well as one that ensures its continued accessibility to the public is our utmost priority and that is why we continue to work with stakeholders to finalize a suitable location."
Ah, stakeholders. Ground zero's favorite people.