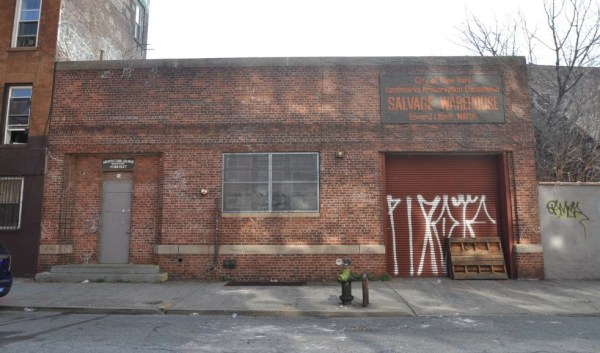 It used to house cast offs from some of the city's oldest buildings, but soon it could house low-income New Yorkers.
The city's Department of Housing Preservation and Development is seeking a developer to turn a  Williamsburg warehouse that served as storage for the Landmarks Preservation Commission into an affordable housing development with 50 apartments. The development, at 337 Berry Street, sits on a 15,000-square-foot lot and calls for commercial or community space on the ground floor, as well as about 1,200 square feet of open space for residents.
The views are not too bad, looking out on the Williamsburg Bridge and Manhattan, though the rumble of the J-Train just might intrude on the apartments, as well, barring some good windows.
"This RFP is a prime example of City agencies working together to put our resources to the best use while continuing the growth and revitalization of this community," said HPD commissioner Mathew Wambua said in a statement. "The new apartments that will be created at this site will transform it from a forbidding façade into a resource of affordability for the neighborhood and provide safe, quality housing to hardworking New Yorkers."
The city decided the landmarks warehouse was ripe for redevelopment as the commission's need for storage has dwindled. In the past, it would collect historical architectural detritus from abandoned and demolished buildings, saving them for future resale to other builds. The program ran from 1980 until 2010, when it was cancelled due to budget constraints and the entire stock of the warehouse was sold off. Rather than waste a vacant building, LPC teamed up with HPD to turn it into a new mixed-used building.
"We are thrilled that this site, through a new use, will continue to give back to the city," preservation commission chair Robert Tierney said.
Submissions to the RFP, which is part of the mayor's New Housing Marketplace Plan that seeks to add 165,000 units of affordable housing to the city's stock, are due by August 31. All units must be affordable for families making 80 percent of the area median income, orabout $66,400 for a family of four.