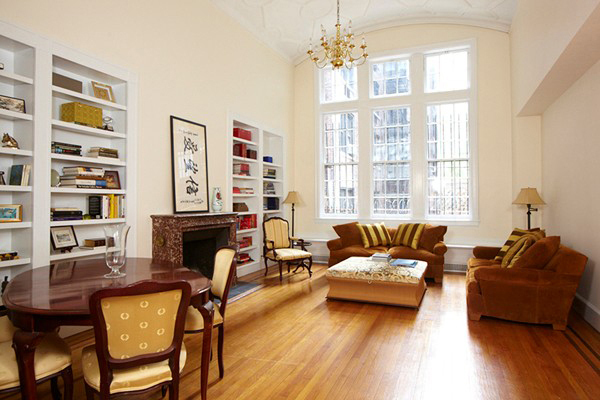 If there's one thing that shipping magnate Angela Chao knows, it's how to move goods. Ms. Chao just sold her Greenwich Village co-op for the $1.6 million ask, according to city records.
Ms. Chao, an executive at her father's Foremost Group and the fourth wife and widow of  the late billionaire and Lazard chief Bruce Wasserstein, must have grown tired of her two-bedroom co-op apartment at 35 East 9th Street, which sold to Nancy Bello and Michael Boghosian. They sure liked the place, though, as it enter contract after a little more than a month on the market.
Well, we can certainly understand why Ms. Chao, who has a much swankier pad at 927 Fifth Avenue, held onto this cheerful apartment, listed with Brown Harris Stevens brokers William Grant and Jill Mangone, for as long as she did. It's a charming space with odd and amazing details like 18-foot barrel-vaulted ceilings, a wood burning fireplace with an 18th-century French marble mantel, chandeliers and a master bedroom suite with internal and external Juliet balconies.
Designed by architect Harvey Wiley Corbett of Helme & Corbett Architects in 1924, the three building co-op also features a roof deck, a big front garden and lots of double-sized windows. A nice place to live for Ms. Bello and Mr. Boghosian, who also work in finance (for Merrill Lynch and Citigroup, respectively).
As for Ms. Chao, she calls a 10th-floor apartment at 927 Fifth Avenue home. The apartment once belonged to her late husband, who liked the building quite a bit. He also owned an 11th-floor apartment that sold to William Lie Zeckendorf for $29 million last year.
kvelsey@observer.com