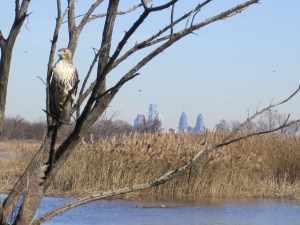 Raccoons, deer and rabbits may be the scourge of the suburbs, but just as Marie Antoinette delighted in her rustic Hameau de la reine, city-dwellers love to dream the dream of living in the countryside.
Americans in urban areas pay more for homes near national wildlife refuges, according to a new study by the U.S. Fish and Wildlife Service that looks at home values in urban areas abutting wildlife refuges.
This news should come as no surprise to New Yorkers who, of course, are insatiable when it comes to park views, and are willing to spend a pretty penny to get them.
Of course, there aren't all that many wildlife refuges near urban areas, but researchers studied three regions of the country and found that homes located within half a mile of a refuge and within eight miles of an urban center were valued at roughly seven to nine percent more in the Southeast, four to five percent more in the Northeast and three to six percent more in California and Nevada.
"National wildlife refuges are public treasures that protect imperiled wildlife and delight visitors," Fish and Wildlife Director Dan Ashe said in a statement. "These findings remind us that refuges also boost community health, sometimes in unexpected ways," the director continued. "National wildlife refuges enrich local communities─even in a lean economy–and generate revenue."
Now we can all breathe a sigh of relief. Nature and development can co-exist. Although we're not entirely sure that elevated home values of residences near preserves are something that the Fish and Wildlife Service should be bragging about. We can almost see the starry-eyed developers now, dreaming up nature-inspired names for new developments lining nature preserves.
The researchers at North Carolina State University who conducted the study (using data from the 2000 Census) surmised that people were willing to pay more for pads near nature refuges not only because they loved the sounds of loons in the evening, or waking to the thwacking of rare birds wings, but also because "refuges protect against future development while preserving scenic vistas."
In broker babble, these are "forever views." And really, it's not so surprising that urbanites like living close to a wildlife refuge. After all, the only thing better than the urban jungle is the real thing.
kvelsey@observer.com