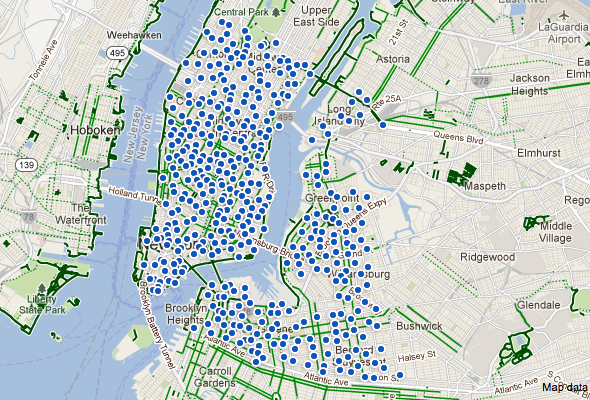 Despite nascent fears of out-of-control teens and flying Dutchmen, New Yorkers are eagerly awaiting the city's bike share program according to a new Quinnipiac poll, which found that 64 percent of city dweller favor bike share compared to 30 percent opposed.
Now, Gothamites can find out if there will be a Citi Bike station on their corner, as the city's Department of Transportation has just unveiled the preliminary map for its new 600-station, 10,000-bike strong bike sharing network.
The Observer cannot quite walk out our door and hop on one of the new bright blue rigs, but there is a station one block north and south of our offices, an arrangement that seems to be the norm for a system stretching from 60th Street to Atlantic Avenue. These bikes will be everywhere.
Well, unless you're a townhouse dweller.In the first phase of the project, set to go live this summer, there will be no bikes on the Upper East or West Sides, Harlem, or Brooklyn's brownstone belt, as DOT's map shows. Sorry Park Slope, there will be no rides through Prospect Park. These neighborhoods will have to wait until the spring, when a full roll out of the system commences.
The first phase will consist of 420 locations, which the Department of Transportation stresses were created in close consultation with local community boards. Queens sees a number of stations, as well as Manhattan and Brooklyn, which was not initially part of the plan, but local demand led to the Long Island City and Astoria being included. The project will cost nothing to tax payers, thanks to a sponsorship through Citibank (that is, if you ignore the multi-billion-dollar bailout of the Wall Street firm).
"I'm extremely proud to release this plan for the Citi Bike network," Commissioner Janette Sadik-Khan said in an email. "New Yorkers created this plan during the past six months, contributing time and expertise in workshops, on-line and in dozens of meetings to discuss and plan the City's newest transportation system."
While New Yorkers may favor the new bikes, they do not want anymore lanes to convey themselves and others on. According to the Quinnipiac poll, 51 percent of New York City voters said they do not want any more bike lanes in their neighborhood, compared to 45 percent who do. Not suprisingly, Manhattan wants lanes more than any other borough, with 52 percent in favor and 42 percent against. The Bronx follows 51 percent to 46 percent in favor.
Brooklyn, despite it's burgeoning bohemian character, comes in last, behind Queens and Staten Island, with 54 percent against and 42 percent for. Maybe this is just because hipsters never register to vote, and that is the base upon which the Q-poll was conducted. Whatever the case, not only will they hurt the president's chances but also those who want to see Citi Bikes in their neighborhood, no doubt. Talk about irony!