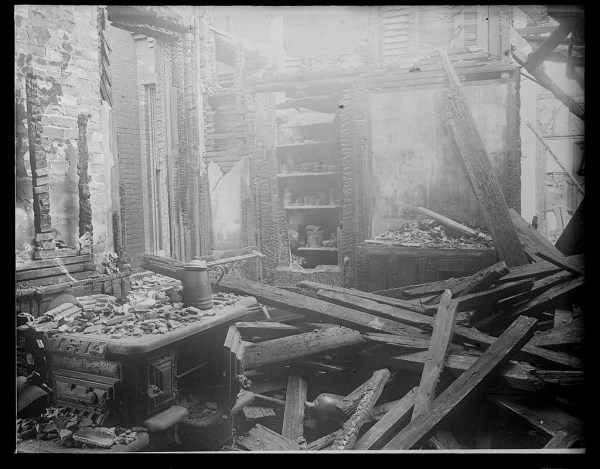 We've heard about landlords letting rent-stabilized apartments deteriorate, but destroying the whole apartment is a new one.
Jadwiga Bronte, who lives in a rent-stabilized apartment on Bedford Avenue, told police that her landlord destroyed her apartment under the guise of doing repair work, The Brooklyn Paper reports.
Ms. Bronte, who shares a two-bedroom apartment near the corner of N. Eighth Street with a roommate, said that she was told workers would be coming by to fix a leak on April 26, but returned to find her apartment in shambles. Ms. Bronte claims that the destruction is part of a campaign to oust her from the apartment.
During Ms. Bronte's brief absence plaster was hacked from the walls, leaving the studs and brick exposed, the bathtub was wrenched from the floor and throw into the kitchen, the front door was ripped from its hinges and chunks of sheet-rock and other debris were strewn all over the floor. The devastation is pretty total, as photos by The Brooklyn Paper show.
Landlord Jamal Alokasheh has taken a "what tenant?" approach to the whole thing.
"She is not my tenant," said the landlord, who has owned the building since 2009. "I don't even know this person—my tenant left over six months ago. She claims she had some belongings there. I told her, 'If you have any belongings there, just take them,' " he told The Brooklyn Paper.
Right…
Ms. Bronte did agreed to a somewhat shady set-up (a sublet turned into an email agreement to pay $700 a month, but then Mr. Alokasheh never cashed her checks, allegedly telling her that he lost them or that rent was covered because she'd put so much work into the apartment). But that's a matter for housing court, not the wrecking ball.
And in 2010, several tenants at another rent-stabilized building accused Mr. Alokasheh of undermining the foundation of their Williamsburg building in the hopes of attracting wealthier residents.
The plan backfired after city inspectors barred anyone from living in the building for a year and banned Mr. Alokasheh from managing the property. Causing tens or hundreds of thousands of dollars in damage to one's property in the hope of getting a few hundred dollars more a month in rent may be novel, but it isn't profitable.
kvelsey@observer.com