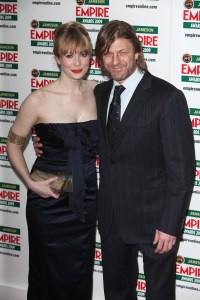 After a brief, heroic stint as the stoic Ned Stark in HBO's Game of Thrones, Sean Bean has relapsed into the role that made him famous: the creepy bad guy. Arrested Wednesday and held for questioning, Mr. Bean (an unfortunate moniker for Brits,) spent most of yesterday in a South London police station after being accused of sending harassing phone calls to his ex-wife, Georgina Sutcliffe.

The Scotland Yard released this statement:
"A 53-year-old man attended a central London police station by appointment yesterday, where he was arrested on suspicion of harassment and bailed until a later date."
It didn't take long for The Daily Mirror to uncover the identity of the stalker as 53-year-old Sean Bean, better known as the beheaded Lord of Winterfell from George R.R. Martin series, A Song of Ice and Fire.
While Mr. Bean has not been officially charged, he does have a history of losing his head (no pun intended): Last year, he suffered injuries from an altercation at a London pub, after being stabbed in the arm by a drunken pub-goer who disrespected a Playboy model in the actor's group. At the time, his actions were seen as heroic. Combined with these new rumors of harassment, and the picture that emerges is much more "Bad Guy from GoldenEye" than the stately "Ward of the North."
Though we doubt Mr. Bean has yet to hit Mel Gibson-levels of crazy phone threats, he's officially on notice…this is no way for the hero of HBO's most popular show to behave, no matter how deceased his character is.