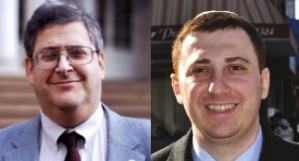 Republican David Storobin is currently on track to become a New York State Senator in the epic, never-ending special election to replace corrupt Senator — and future inmate — Carl Kruger. The votes, cast March 20th, have all been counted, but an automatic hand recount of all 20,000 ballots was triggered due to the closeness of the end count — a lead by Mr. Storobin of 27 votes.
"So, they are 10% through with the first ever re canvass of paper ballots from the scanners," the Democratic candidate, Lew Fidler, wrote on Facebook last night, noting, however, that there is still some hope as the new voting machines did show variances with the original count even though the net margin did not change.
"While we still trail by 27 votes, there are discrepancies in the count so far. (The machines are therefore not perfect.)," he continued. "We are going to count all the votes and then the world will finally have the answer to the question that has burned since March 20th….who is the real Mayor of Mooseport?"
Because the legislative session ends in June, whoever the ultimate winner is will have limited time to actually legislate before facing reelection in a substantially different district. Thus, Mr. Storobin has been busy this week introducing himself to various community boards in southern Brooklyn, including the Boro Park-based CB12 last night and the Bay Ridge-based CB10 the evening prior (although the latter doesn't have much overlap with even the new district).