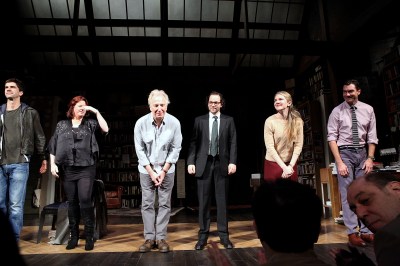 Despite rave reviews for Alan Rickman and the cast of Theresa Rebeck's caustic comedy of literature and sex, Seminar, the Broadway show shuttered last Sunday in a whimper, not a bang. This blow came one month after an almost complete turnover in the cast, with new members Justin Long, Zoe Lister-Jones, and Jeff Goldblum taking over from Hamish Linklater, Lily Rabe, and Mr. Rickman, respectively.
Seminar, a five-person play about privileged creative writing students receiving private lessons from a washed-up, curmudgeonly ex-literary superstar named Leonard, may have suffered with the casting overhaul, though an insider told The New York Observer that the show was axed after receiving zero Tony nominations. (Though it has been nominated as Best Play of the 2011/2012 Season by the Outer Critics Circle and The Drama League.)
The Observer
only saw the play when Mr. Rickman was performing, so we can't speak to the new cast. But
even we had our doubts
that Mr. Goldblum could play Leonard with as much devious glee as Mr. Rickman had. (Think: Professor Snape if he had his eye more on Hermione's chest than Harry's wand.)
Perhaps it was a mercy killing if the new cast wasn't doing Ms. Rebeck's smart, fast-paced dialogue justice…but we suspect our source was on the money: being snubbed for an award can (unfortunately) kill a play faster than lackluster performances.