Update: After speaking to Ms. Penny, she told The New York Observer she was shoved by the police, but not a victim of police brutality. And although the retweets have disappeared from her timeline, Ms. Penny said they were not deleted by herself.
You guys remember Laurie Penny? She's the world's luckiest woman: not only did she miss getting ht by a car, but she missed getting hit by a car by Ryan Gosling! As a writer and a feminist and a gentlewomen, the British journo was a tad ungrateful to Mr. Gosling for being famous enough that the media picked up her story and cast her as "the ditzy damsel in distress."
Well she might not be ditzy, but Ms. Penny is certainly in distress…She's been writing from the Chicago NATO protests, where she claims to be the victim of police brutality.

As a journalist with a press pass for The Independent, Ms. Penny claims she was shoved by police officers, despite her credentials:
@PennyRed: Photo of me getting shoved by a cop at yesterday's march. You can clearly see my press pass in my hand. By @kateharnedy http://katehphoto.photoshelter.com/image/I0000JCeA4gk.YeM
Soon after, Ms. Penny started retweeting 'hate messages' she had received on Twitter.

She deleted most of them before we were able to get a screenshot. But just to prove that they existed: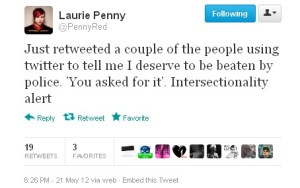 Where was Ryan Gosling during all of this?!