This morning, staffers of The New York Observer were treated to a lactose surprise: as we entered our building on 321 West 44th St., a sad woman in the lobby sat next to a giant billboard advertising something called World's Best Cheeses. The logo on the sign was a mouse with a crown flying a small airplane into a moon of cheese. Color us interested; we took it upon ourselves to investigate the people behind the Mouse King and his trip to the orbiting cheese satellite. Through some Pulitzer-caliber journalism–we asked the sad lady what she was promoting– we found out that The World's Best Cheeses Show had come to town…and was taking place in our building, no less!
The World's Best Cheeses Show is actually a spin-off of NASFT's (National Association for the Specialty Food Trade) biannual Fancy Food Show, the largest food and beverage show in America. NASFT boasts on its website that its the "leading source of information about the $70 billion specialty food industry," but is probably better known for the foodie's wet dream it throws: In previous years, vendors of delicious treats filled the halls of Javits Center, exhibiting their confections and peddling their wares to high-end restaurants, boutique markets, and local sellers.
Unfortunately, the past two years have seen Javits under construction, and the movement of June's three day exhibition to the Walter E. Washington Convention Center in D.C.
"The show was so much better at Javits," one seller complained. "There were just floors and floors of food, and it was much easier for local producers to connect with buyers in the area."
As a compromise, the Worlds Best Cheeses Show has remained, in a diminished capacity, as a one day blowout on the 9th floor of our office building. Walking in, we were offered nametags and an assortment of sparkling Limonade. We looked around; the only person wearing a sticker was a heavyset man who bore the title "Rich CheezeIt."
"Take off your nametag," we hissed at our editor, who had just stuck one on his shirt.
Not even the fluorescent lighting of the office currently serving as host for the WBCS could make the food look less appetizing. We sampled artisanal raw cow's milk cheese from the  French company named Paccard, with chunks that were cut from giant,  smooth stones of unpasteurized goodness.
"The industry standard is to wait two months before selling raw cheese," the woman working the Paccard stand told us, "Because there is a fear of germs and bacteria. But that's ridiculous: it's all about cleanliness. You could get more sick eating pasteurized cheese made in a dirty factory than raw cheese made that's been made in a clean environment."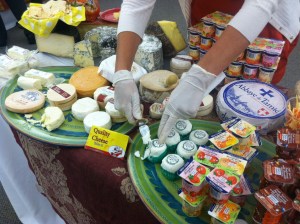 Well, she was the expert. Honey drenched ricotta, wine-soaked Drunken Goat, triple-creme Kunik, cheese wrapped in hay, infused with chestnuts, or laced with the subtle taste of the bramble eaten by the mountain goat which it was milked from,  frothy Mascarpone whip: by the time we made our rounds through the deceptively large amount of cheese vendors, we had become lactose-intolerant. Luckily, plates of  pate, salami, and various other locally-butchered meat products offered a respite from all that milk.
A man handing out toothpicks with slices of sausage was talking to a Brooklyn restauranteur. "We're getting priced out, don't even ask about it…I might have to move my business to Queens," restaurant owner lamented.
For a moment, we felt a twinge of tref guilt, which we quickly stifled with a glass of red wine.
"Come back for the open bar!" One of the vendors called on our way out. We couldn't tell if she was joking, but we'll make one more trip upstairs before we leave, just to be sure.