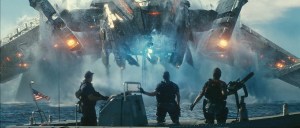 In the dementedly overproduced and underwhelming action epic Battleship, what promises to be another brainless summer of so-called "blockbusters" takes another giant step backward. The wags already labeling this one "Terminator with water" are on the mark—I have to admit it has moments of noisy glory I couldn't ignore. As another cookie-cutter ripoff inspired by comic books and video games (this time, Hasbro's naval-combat pencil and paper-cum-board-turned-video game), you're better here than with the idiotic Marvel's The Avengers. To paraphrase a lyric from Guys and Dolls by the great Frank Loesser, "More than that I cannot wish you."
Skipping through a mass of sci-fi prologue mumbo-jumbo, NASA's transmission device, which is more powerful than anything known to science, has discovered another planet with the same water, air and climate as Earth. It's called Planet G and suddenly, faster than a rocket launch, it has declared war, wiping out Hong Kong and heading for Hawaii. In Oahu, where 20,000 Navy men have assembled for the biggest game competition since the invention of the pinball machine, the spaceship strikes, attacking Pearl Harbor, recalling the Japanese air strike that once stun-gunned Franklin D. Roosevelt into military history. This time, the harbor where the U.S.S. Missouri stands as a World War II museum becomes the launch pad for war at sea with … aliens?
Taylor Kitsch, the camera-ready hunk from the Nautilus School of Dramatic Art who just survived the billion-dollar bomb John Carter, plays Lieutenant Alex Hopper, a screw-up of a weapons officer with no experience who takes over the state-of-the-art battleship John Paul Jones when the state-of-the-art U.S.S. Sampson, commanded by his veteran big brother Stone (Alexander Skarsgard), is blown to scrap metal by the vastly superior vessels from outer space. Alex is in love with a beautiful physical therapist for disabled combat veterans named Sam (Brooklyn Decker), who is also the daughter of the Commander of the Pacific Fleet (played by Liam Neeson in a cameo of sorts). The admiral thinks Alex has a weak character and poor leadership and even worse decision-making skills, and is on the verge of kicking him out of the Navy. To make matters worse, Alex faces a powerful adversary in Captain Yugi Nagata (Tadanobu Asano), commanding officer of the Japanese destroyer Myoko. Poor Alex has got a lot to prove, with the help of an Army battalion leader and double amputee, played by Col. Gregory D. Gadson, a real-life veteran who lost both legs in Iraq in 2007, various boatswains, engine-room experts and pop star Rihanna, making her screen debut as a sarcastic crewmate and weapons specialist who changes her tune in battle (but, fortunately, does not sing). If you got all that straight, you're a better man than I, Gunga Din.
But back to the aliens. Destroying Marine bases, helicopters, jet planes, warships on the sea and radar transmitters in the sky, they must wonder as much as I do, in the middle of an ozone-destroying nuclear war, how Alex's girlfriend reaches him from a mountain top on her cell phone. It makes no sense why the John Paul Jones is the only destroyer in the Pacific Ocean to battle the alien invasion. "Let's see if we can buy the world one more day," says one sailor. "Who talks like that?" is the reply. And then, when they're blown into ocean foam, the only humans left to come to their rescue, are the old World War II survivors on the 70-year-old floating museum, the U.S.S. Missouri. Even NASA is rendered helpless, but when it comes to Pearl Harbor, this movie asks you to save the patriotic applause for the old tugs. Never mind. It's not the wooden acting, asinine plot or feebleminded dialogue that keep you awake. It's the attacking UFOs sending out grinding wheels of fire that look like Good Year tire rims equipped with atomic bombs. Will the old salts called into action one last time to fire on the alien missiles with torpedoes from the 1940s raise Earth's flag in triumph?
Battleship is dopey, preposterous and unintentionally hilarious in all the wrong places, but as directed by Peter Berg, it is also energetic, fast-moving and bracing. Summer audiences with a high tolerance for stupidity and low expectations will jerk and shake and wince in perfect unison with the cacophonous soundtrack. For artistry look elsewhere, but for inescapable time-wasting entertainment value, search no further than Battleship.

rreed@observer.com
BATTLESHIP
Running Time 131 minutes
Written by Erich Hoeber
and Jon Hoeber
Directed by Peter Berg
Starring Alexander Skarsgård, Brooklyn Decker and Liam Neeson