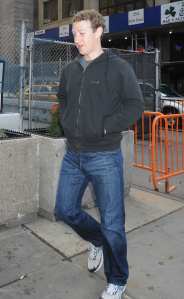 Zuck enters Facebook's first road show presentation by the side door, Yahoo! CEO says sorry for … the distraction and a financier with fashion sense steps in to save Barney's from bankruptcy court. Today's morning roundup:
Road show: Mark Zuckerberg slipped into the midtown Sheraton through a side door to address investors yesterday, and left in the company of "a dozen beefy security guards," the Journal reports, as Facebook kicked off its IPO road show. The presentation opened with a 30-minute video presentation available here. Following a delay while Facebook's 27-year-old CEO was apparently having a hard time finding his way back from the bathroom, Zuck, Chief Operating Officer Sheryl Sandberg and Chief Financial Officer David Ebersman fielded questions on the company's strategies for China, mobile revenues and its recent $1 billion Instagram acquisition. With excitement building, analysts have been quick to offer opinions on Facebook, with Sterne Agee slapping a buy on the company and Wedbush Securities assigning a $44 price target to the stock.
So sorry: Yahoo! CEO Scott Thompson apologized to employees for lying on his … wait, no, for the distraction caused by the "disclosure of my academic credentials." You can find the whole letter (addressed "Yahoos:") over at Dealbook. Third Point Capital's Dan Loeb has been calling for Mr. Thompson to step down since last week, when the hedge fund manager asserted that the executive lied on his resume.
Trader exodus: Nearly two dozen of Wall Street's most profitable credit traders have defected from banks in the past 13 months, Bloomberg reports, as lenders cut bonuses and regulators seek to limit the types of trading banks can engage in.
Chopping red tape: Bank of America data chief John Bottega has a fourth-degree black belt in Okinawa karate, so watch what you say about consolidating bank data, a cause Bottega championed in a previous position at the New York Fed.
Fashion finance: Barney's New York will escape bankruptcy after swapping about $540 million in debt for equity with Richard C. Perry's Perry Capital and Ron Burkle's Yucaipa Companies. The fashion retailer, which filed Chapter 11 in 1996, was acquired by Istithmar, the Dubai-based private-equity firm, for $942 million in 2007. Mr. Perry is known for his "sharp style," and shop's at Barney's, according to Dealbook. No word on Mr. Burkle's fashion sense.
Bailout bonus: The Government Accountability Office said the U.S. could turn a $15.1 billion profit on its bailout of AIG, and Forbes breaks down some of the math. The government had $46.3 billion outstanding in the insurer as of March 22, including the Treasury's $35.9 billion equity stake and $8.3 billion owed to the Fed.
Government nod: Ally Financial has the Treasury's support to put its ResCap mortgage-lending unit into bankruptcy, an Obama administration official told Bloomberg. The auto lender, which was bailed out to the tune of $17 billion, is 74 percent owned by the U.S. government.
Check yourself: The SEC has called for an independent investigation into charges of sexual misconduct against current and former staff in the watchdog's own inspector general's office, sources familiar told the Journal. David Kotz, who was the agency's inspector general during the time the misconduct is said to have occurred, told the paper "as far as I know, the allegations do not involve me."
[Photo by Arnaldo Magnani/Getty Images]