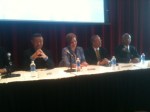 The six contenders to be the next mayor of New York gathered for the first time this afternoon for a roundtable at New York University, and with the election still over a year away, laid out the broad themes which will define the campaign to come.
All of the candidates signaled that they would represent a significant break with the policies of the Bloomberg administration. And beneath moments of humor among the candidates, five of whom have served alongside one another in various elected offices for several decades, the group articulated sharp disagreements among each other and at times delivered not-so-subtle digs at their opponents' rhetoric and record.
The topic of the forum was increasing minority and women owned businesses in the city of New York, and each of the candidates suggested that Mayor Michael Bloomberg has failed to diversify the city's contracting process, spread economic prosperity to marginalized communities and even failed to build an administration, that, in the words of public advocate Bill de Blasio "looks like New York City."
Mr. de Blasio was joined on stage by Manhattan Borough president Scott Stringer, former City Comptroller Bill Thompson, current City Comptroller John Liu, and Tom Allon, the publisher of Manhattan Media. Most of the attention of the audience however was focused on Council Speaker Christine Quinn, sitting in the middle of the stage after only accepting the invitation to appear on the panel a few days ago. Ms. Quinn is, like the rest of the participants save for Mr. Thompson and Mr. Allon, not yet a declared candidate for mayor, although she leads in early fundraising and polls.
She is also closely allied with Mayor Bloomberg, an attachment may serve her well in the city as a whole but is a handicap in a Democratic primary.
Still, Ms. Quinn sounded at ease discussing her MWBE record as City Council Speaker, conceding that a 2005 law that she shepherded to increase oversight of the administration "didn't go far enough and clearly the implementation was not done correctly." She received cheers from the audience when she pledged to hire a "Chief Diversity Officer" in City Hall—a pledge that was later echoed by the other candidates—and she borrowed a page from the president's state of the union address, calling out an audience member who sells fire extinguishers to the city to demonstrate the difficulty MWBE-owned businesses have in dealing with the city.
"You shouldn't have to know the speaker of the City Council to have things like that taken care of."
Scott Stringer, whose prospects have improved in recent months when a sex scandal felled Anthony Weiner and when Mr. Liu became ensnared in a campaign finance controversy, made the most explicit appeal for his own political future and sought to contrast himself with Ms. Quinn.
"A chief diversity officer in an administration that is not diverse will not work. And I am here to tell you that during my transition, we are going to talk diversity before we take office in January 1, 2014."
And in a moment that showed the long history some of these candidates have with one another, Mr. Stringer also offered Mr. Thompson the job of Chief Diversity Officer in his administration.
Mr. Thompson quickly noted that while he would happily offer Mr. Stringer a job in his administration, he did not think that Chief Diversity Officer would be the right fit. And later, Mr. de Blasio chimed in, "I appreciate that earlier people were offering each other jobs. I would like to offer Scott Stringer an opportunity to be chief communications consultant because I thought his line a chief diversity officer doesn't work in an administration that is not diverse was better than anything I ever came up with."
(Only Mr. Liu was against the Chief Diversity Officer idea: "Whenever there is a problem the knee-jerk reaction is to appoint somebody," he said. "We don't need a chief diversity officer to make diversity a priority—we need a chief executive officer.")
For his part, Mr. Thompson touted his role as the head of a state task force designed to increase MWBE participation. The former city comptroller was appointed to the task force by Gov. Andrew Cuomo and Mr. Thompson several times tried to tie himself to the popular governor. Mr. Thompson also spoke of his long record in public service, and efforts he made to increase MWBE participation dating back to his days as a deputy borough president of Brooklyn, through his time on the Board of Education and as City Comptroller.
Mr. Allon, noting that was the only person on stage not currently holding office, challenged the other candidates to cease paying lip service to the notion of a chief diversity officer and to hire one in their current capacities.
The candidates were asked by moderator David Chen of The New York Times to grade the mayor's efforts on this topic. Mr. Allon gave him a B-; Mr. de Blasio an F; Mr. Liu an F; Ms. Quinn, after some prodding, a C. Mr. Stringer declined to submit a grade, setting off groans from the crowd, and Mr. Thompson would only say that the mayor's record was a failure.
Although the election is eons away in political terms, today's exchange gave the candidates a chance to trot out their messages before the kind of audience of women and minorities that will make up the bulk of the Democratic primary electorate next fall. It is unclear how many of the six will still be on stage when the debate season kicks off an earnest. And more could yet join. As Mr. Chen noted at the start, there was plenty of space at the table today, room, perhaps, that could be filled some as of yet unknown candidate to come.