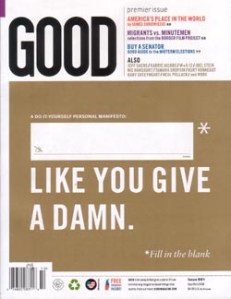 GOOD co-founder and creative director Casey Caplowe acknowledged the surprising layoffs that claimed more than half of GOOD's editorial staff last week and announced that the site will relaunch this summer.
"We've had to make some big and difficult decisions, perhaps the biggest and most difficult of which involved letting several members of our editorial team go last Friday," Mr. Caplowe wrote yesterday, in a blog post titled, A Short Update from GOOD HQ. "These were great people who contributed a lot to GOOD. We wish them the best and expect that they will do great things."
Coming the day after the magazine's issue release party (and followed by the release of a video featuring the laid-off staffers celebrating GOOD's 200,000 Facebook fans), the timing of the layoffs is, as The Atlantic Wire wrote, pretty clumsy.
In an exchange with Poynter's Andrew Beaujon, Mr. Caplowe refused to go into any further detail about the status of GOOD's magazine arm and spoke exclusively about its online platform, which he said is, "evolving…in a way that will allow the whole GOOD community to engage more deeply."