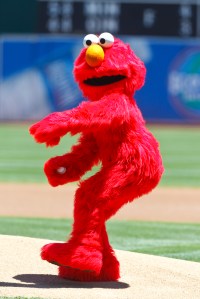 It may be a "Sunny day (where) everything's A-Ok" on Sesame Street but New York City apparently draws a slightly tougher crowd.
On Sunday afternoon, police officials escorted childhood icon Elmo (or, rather, an Elmo impersonator) out of Central Park on a stretcher headed for psychological evaluation at Metropolitan Hospital Center, the Times reported. Although we would normally expect a chorus of sobs from the children witnessing such a site, this Elmo had ruffled enough feathers with his anti-semetic and xenophobic jabs that bystanders were more than willing to say 'good riddance!'
On Tuesday afternoon, according to The Times, the man in the suit, who calls himself Adam Sandler (perhaps alluding to his self-acclaimed 'comedic' talents), returned to his post in the park after being released from psychological evaluation earlier that morning.
"I'm sort of sneaking back in," he told The Times.
He additionally informed them of his background, recounting his creation of a pornographic site called "Welcome to Rape Camp" in Cambodia, resulting in his deportation from the country in 1999.
He told The Times that upon arrival to the US, he purchased an Elmo costume online with hopes of joining the forces of character impersonators that color Times Square day in and day out. These impersonators are unaffiliated with the Sesame Street Workshop, the producers of "Sesame Street," said in a statement.
Several YouTube videos documenting Elmo's less than subtle rants were released on Monday, appalling many: "If you start your own business in this city, Jews will harass you!" he exclaimed in one.
As Elmo shouted, "I work for John Gotti," (followed by a chain of profanities) in a tunnel near the Central Park Zoo, a clown donning a white coat, decorated with red hearts stepped out of his own friendly role to chastise his 'fellow' impersonator.
"What's your problem … do I look like I'm playing with you, Elmo?" said the clown in a Blockbuster-style confrontation.
Now, obviously the angry shouts of Elmo and a clown echoing through a Central Park tunnel are bound to attract laughter – and that they did.
"Elmos around New York say they recognized the man from previous clashes," reported The Times. They also reported that he would discourage people from taking photos with other costumed characters because they were 'illegal immigrants.'
While the Elmos of Times Square would often steer clear of this specific impersonator while he roamed the streets, many impersonators declined to comment today when asked how they felt about the troublemaker being removed once and for all. Many of them responded, "I don't speak English," while continually pointing to their tip bags hanging around their necks. Others just shook their heads when asked for an opinion; one man in a Buzz Lightyear costume on 44th and 7th seemed especially upset, echoing a chorus of repeated "No's" as he walked away.
This is not the first character impersonator infraction the news has seen: the LA Times reported on violent characters (specifically a pedestrian-slugging SpiderMan and a head-butting Chewbacca) in front of Grauman's Chinese Theater near Hollywood Boulevard in 2009 and 2007 respectively.
Whatever the case, the Elmos of New York can now walk a little easier. One thing's certain: NY tourists will take heed next time they ask, "how to get to Sesame Street."