Earlier this year, the Museum of Modern Art presented a David Hammons drawing that could be viewed only by appointment for a few moments each week. The rest of the time, a white silk cloth covered the work as it hung inside the museum's "Printin'" exhibition. Those who scheduled a viewing got to see an effervescent pink piece made with subtle washes of Kool-Aid. It was an absolute stunner.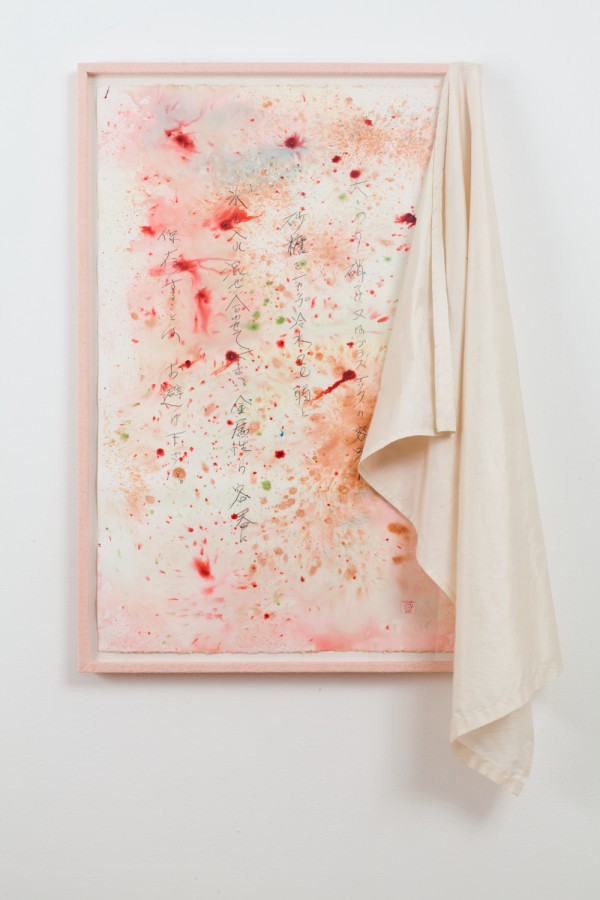 Now another Hammons Kool-Aid piece has gone on view, and this time no appointment is necessary. It's hanging in "Everyday Abstract – Abstract Everyday," the summer group show that Matthew Higgs organized at the James Cohan Gallery, and is filled with quick splashes of pale peach, rich blood orange, pale lime, yellow and blue. In contrast to the relaxed, soothing and mediative feel of MoMA's piece, Cohan's offering is violent, raw, almost wild. The thin pools and specks of liquid look, in places, like patches of just-dried blood.
Here the cloth hangs off the side of the terrycloth frame, cloaking only a sliver of the work. The rotund and ever-jovial Kool-Aid Man is just barely visible near the lower-right corner, sporting his huge grin and ample eyebrows. Last time he looked out of place but oddly benevolent. This time, he's faintly menacing.
Every Friday, Don't Miss It! looks at a single artwork on view in New York.