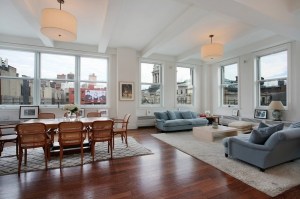 It is not Versailles, certainly, but Sofia Coppola's two-bedroom condo at 161 Grand Street is lovely. Just not lovely enough to keep the Marie Antoinette director interested.
Ms. Coppola has sold her "sun-drenched" corner loft for the $2.75 million ask, according to city records. Margaret Challa is the buyer of this roomy, high-ceilinged space.
The condo offers big windows that look out at the Manhattan skyline from the sixth floor—perfect for gazing out at the city in moody reverie.
There's also a state-of-the-art kitchen, custom closets and a luxurious master bath with lots of marble and a soaking tub, according to the listing held by Corcoran brokers Carter Wilcox and Chris Poore.
It goes without saying that the luxurious loft sold quickly (only 37 days on the market). It does, after all, have the kind of muted beauty that Ms. Coppola is known for cultivating.
kvelsey@observer.com