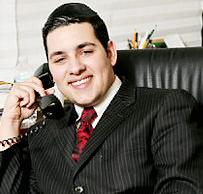 Abraham Tischler, who made headlines as an 18 year-old City Council candidate a couple years ago, is fully committed to running for the New York State Senate in a heavily Orthodox Jewish seat this year. Previously, he was somewhat vague about his intentions, telling us, "I can't disclose anything yet but I am working on assembling this fast."
According to a tipster in the district — often referred to as the "Super Jewish" seat — Mr. Tischler is "full force ahead" and has a complete set of volunteers hitting the streets and gathering signatures to get him on the ballot.
In order to be successful, he will need to do a better job at collecting signatures than in his 2010 campaign, where he was ultimately kicked off the ballot, leaving David Greenfield and Joe Lazar as the main candidates in a special election to replace Simcha Felder in the City Council (Mr. Greenfield ultimately won, of course).
Mr. Tischler's move places him on a collision course with history, as the establishment pick for his 2012 state senate race is Mr. Felder, who is widely considered the frontrunner.
The winner of the Democratic nomination is likely to face off against either attorney Nachman Caller or State Senator David Storobin in the general election. Mr. Storobin has said in the past that he would seek reelection in this district, substantially reconfigured in redistricting, but has not publicly committed to the campaign since he won his special election last week.