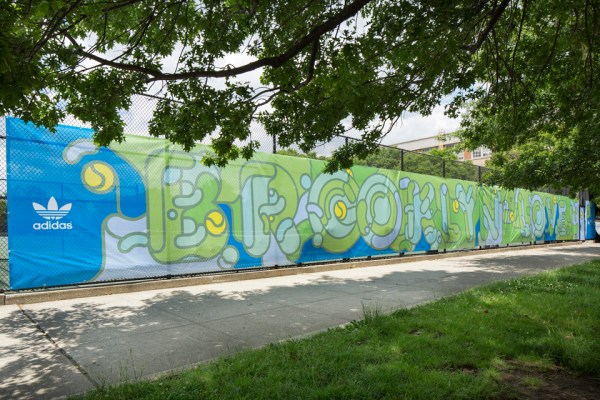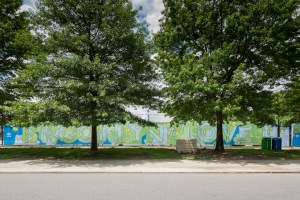 Everyone is waiting to dive into the revamped McCarren Park Pool at the end of the month, restored to its Robert Moses-era glory after decades of neglect. But another corner every hipster's favorite park has just been spiffed up thanks to Adidas.
On the other end of McCarren lies a run of seven popular tennis courts besides Automotive High School. Like much of the park, it is a little worse for the wear. Efforts have been afoot to install a bubble for the winter, but at least for the time being, a new windscreen will help keep conditions better during the blustery spring and fall months. And this being Brooklyn, the windscreen had to take on an artistic flair.
Adidas Originals tabbed L.A.-born, Brooklyn-based designer Brent Rollins to come up with a mural for the screen. He hit upon the idea Brooklyn-Love. Not only does this express his and his neighbors' abiding love of their home borough, but it is also a tennis pun, according to Adidas. Love-love being the starting score in any game, the mural means Brooklyn always wins. Brooklyn beats all.
The players already love the installation, though this project underscores the funding challenges for such work. "Our group of volunteers has been working hard to improve these public courts, but much of the success we've had over the last few years stems from the generosity of donors like Adidas Originals," said Sean Hoess, president of the McCarren Tennis Association.
The Parks Department has recently come under fire for seeking sponsors for some of its amenities—welcome to the Dunkin Donuts playground!
In this project, no money exchanged hands, according to an Adidas rep, though the windscreen was paid for and donated by the company. On the one hand the court gets a new windscreen, and a very nice one at that, with a cool new mural blazing down Williamsburg main street Bedford Avenue. But not without a little Adidas logo poking out next to the Parks Department one.
We have ads on subways and buses, and logos can be found all over the court. Is a little cross-promotions in the park so bad?