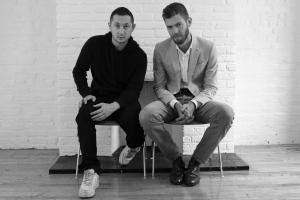 West Street Gallery, the project space started in 2009 by Alex Gartenfeld and Matt Moravec inside Mr. Gartenfeld's apartment on the West Side Highway near Christopher Street, will close after a final group show this summer.
"It is a project space and the project is coming to a natural conclusion," Mr. Gartenfeld said in an interview. "Projects are always changing in order to stay lively and both of us have moved naturally towards other obligations. At this stage we felt comfortable that we were in a place to work with artists in other formats that were new and exciting for us. This certainly doesn't mean that Matt and I will stop collaborating, either—the project is just evolving."
Mr. Gartenfeld and Mr. Moravec emphasized West Street as both a curatorial project and a way of establishing a community. The final group show will be, as Mr. Gartenfeld calls it, a kind of "recap" of the last two years and will include work by each of the artists that were involved with the space: Michele Abeles, Sam Anderson, Trisha Baga, Ian Cheng, Sam Falls, Ryan Foerster, Brendan Fowler, Greg Fong, Van Hanos, Ian Hokin, Zak Kitnick, Erik Lindman, Andrea Longacre-White, Jo Nigogohossian, Dominic Nurre, Eric Palgon, Asher Penn, Grayson Revoir, Julia Rommel, David Scanavino, Dan Shaw-Town, Ryan Sullivan, Kyle Thurman, Josh Tonsfeldt, Kon Trubkovich, Daniel Turner, Ryan Wolfe and Anika Yi.
A lot of those names, at this point, look pretty familiar. Over a surprisingly short span of time, West Street helped cultivate the careers of many artists that seem ubiquitous at exhibitions and art fairs in New York and beyond. Mr. Gartenfeld and Mr. Moravec are responsible for giving a great deal of young talent their first shows in the city.
West Street quickly became known for its cramped openings, with people spilling out into the stairwell and struggling to fit themselves inside of the kitchen, the apartment's largest exhibition space, which was stripped of furniture save for a stove and refrigerator (often conveniently stocked with cold beer).
Mr. Gartenfeld and Mr. Moravec will continue to work together in different capacities, as well as organize shows independently. Mr. Gartenfeld curated a show at Los Angeles gallery Ohwow that opens next week, as well as a group show that will take up both Team Gallery locations in January. Mr. Moravec is doing a show in Düsseldorf, Germany, this summer. The final show at West Street opens June 22 and runs until July 7.
"I think we realized that things don't need to go on forever," Mr. Moravec said, "and they don't necessarily need to turn into something else for them to be meaningful or special. The ideas will live on in this group of people."