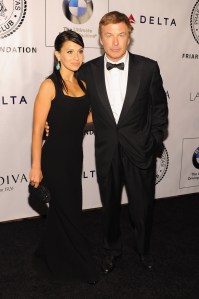 Remember how Alec Baldwin was supposed to elope with yoga instructor fiancee Hilaria Thomas after the Cannes Film Festival? Whatever happened with that?
Well, the date may finally be set on the New York ceremony, and  according to new gossip, it sounds less like an elopement and more like a full-blown Hollywood wedding. Oh, that wily Alec.
According to Page Six, Mr. Baldwin and Ms. Thomas have set their date as June 30th:
The couple will tie the knot at the Basilica of St. Patrick's Old Cathedral on Mulberry Street in NoLIta, a landmarked church built in about 1810…The site has a Hollywood pedigree — it was where Francis Ford Coppola filmed the famous baptism scene in "The Godfather," in which Al Pacino's renunciation of Satan was intercut with the massacre of the Corleone family's enemies.

Martin Scorsese used the church's walled graveyard for a scene in his breakout film, "Mean Streets," and as a location in "Gangs of New York."

But any Hollywood comparisons end there. Pope Benedict XVI bestowed basilica status on the historic house of worship in 2010.
That's a lot of history for one street! You'd think that when getting married, one would want to avoid all references to The Godfather and Mean Streets, but then again, we guess it's better than holding the ceremony in the sales office from Glengarry Glen Ross.