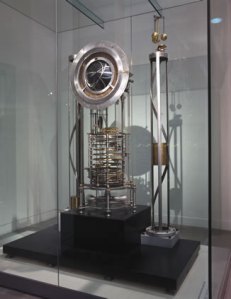 Amazon (AMZN) CEO Jeff Bezos is famous for changing the way we shop for books (and a lot of other stuff), shaking up entire industries in the process. He's less well known for "The 10,000 Year Clock," the 200-foot-tall clock designed to outlast human civilization, into which he's sunk $42 M., according to the Wall Street Journal
"When it's finished, it will play an elaborate cuckoo-like sequence for the anniversary of every year, decade, century, millennium and 10 millennia," the Journal's Stu Woo wrote. "People who visit the clock when it is finished years from now will also be treated to a daily chime sequence that has been choreographed by musician Brian Eno, who serves on the project's board."
The clock is being built deep inside a mountain on Mr. Bezo's West Texas property. You know, near where he launches the rockets for his space travel start-up, Blue Origin. Mr. Bezos also patented an airbag for the insides of cell phones, invested in a local glass blowing company and hired deep sea experts to recover pieces of Apollo 11 from bottom of the ocean.
Who knew the reclusive bane of the publishing industry was having more fun than James Cameron and Richard Branson?
Next do Kindle we can take in the shower, Mr. Bezos!