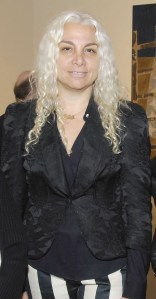 In September of this year Andrea Rosen will open a second, 1,350 square-foot space at 544 West 24th Street, just down the block from her current space at 525, as first reported by Art in America yesterday.
Over the phone today, Ms. Rosen said that the space will allow her to continue creative curation in the vein of the project space at the gallery's current location, which is also called Gallery 2. The new space was partially taken on to show her new artists like Josephine Meckseper and Ryan Trecartin, she said, but  also allows her "to evolve in all the ways that I think are all of my responsibility as a gallerist."
When thinking about her evolution as a gallerist, she says she often returns to one of her artists, Félix González-Torres, whose estate she still represents.
"When you inspire people to have a point of view," she said, "you also create a responsibility for people to have a point of view and that sort of Félix González-Torres-ism is really at the root of what I'm interested in, and that cuts across every part of the art world."
And with Gallery 2, she said, she hopes to allow for experimentation and exhibitions at a remove from other elements of the art business.
"In one way, I don't care whether Gallery 2 shows are profitable," she said. "On the other hand, if I were to ever separate the idea of inspiration from the idea of the market," which, in the vein of Félix González-Torres, she would never do normally, "I believe that collectors, along with the public, are making a true consensus on what's significant.
"We want to be immortalized by art, and those generalizations about us, what we're leaving behind to represent us and our time, have a relationship to money in that we value them. How do we value those things that are going to historicize us? So there has to be a sense of value, but that's different from the market."
The first show for the gallery is not yet set in stone, but Ms. Rosen said it will most likely be an artist who has not yet had a solo show in New York City. The exterior of the second space, like the flagship gallery, will be green.