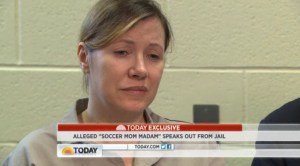 As we continue to mull over the game tape from yesterday's Today segment in which Matt Lauer interviewed Anna "The Soccer Mom Madam" Gristina, we came across one interesting little discrepancy that might be worth noting.
At one point in the interview with Matt Lauer, Anna Gristina explains her innocence as such:
Gristina maintains that her matchmaking service was legal. She saw the show "The Millionaire Matchmaker" on Bravo and said a friend suggested she create something similar. Gristina's idea was to create a high-end "sugar daddy" matchmaking service for wealthy men who are married — like a married version of Match.com, she said.
The D.A. is accusing her of having run a prostitution ring for fifteen years.
The D.A.'s investigation of Gristina's ring has been going on for five years.
And for what it's worth, on an internet profile, she cited her job as an "internet marketer" (how wonderfully vague!) from 2005 to 2009.
The Millionare Matchmaker's first airing on Bravo was January 29, 2008.
That's two to three years after the LinkedIn profile has her starting in the "marketing" business.
That's at least eleven years after the D.A. has accused her of first running her business.
And it's an entire year after the D.A. began its investigation of her.
In other words:
If Anna Gristina is to be taken at her
well-documented word
, that means the D.A. started investigating Gristina for her matchmaking business a full year after she ever had the idea for it.
To wit: the D.A. investigating supposed wrongdoing a year before the accused's alibi's timeline is even possible would be a very, very strange occurrence.
fkamer@observer.com | @weareyourfek