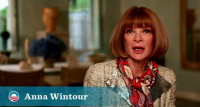 Today must have been an interesting day for Vogue editor Anna Wintour: She's come under fire not just in the pages of the New York Post, but on Fox News as well. And what did Ms. Wintour do to so enrage such esteemed gatekeepers of the integrity of Western Civilization?
One could start by asking New York Post columnist and former Reagan speechwriter John Podhoretz, who wrote a column for today's paper entitled 'Team O Turns Tone-deaf — 2nd prize: Two Dinners with Anna,' in which he gives a well-reasoned critique that attacks Ms. Wintour for:
Her hair.
Her smile.
Her British accent.
The food at a dinner she's co-hosting that he hasn't sampled.
Her theoretical elevator etiquette.
Her likeness as portrayed in The Devil Wears Prada.
How she stacks up to Mr. Podhoretz's mother and Aung San Suu Kyi.

Mr. Podhoretz, not impersonating a piss-poor version of Gossip Girl, writes of Wintour's appearance in a fundraising video for Barack Obama (emphasis ours):
Wearing a hair helmet that makes her look like a Roman centurion with a '20s bob, Wintour attempts what might pass for a smile on the planet Vulcan and intones Britishly…But why, pray tell, is Wintour informing the nation of a dinner to which the nation will not be invited, and at which, one might surmise from the eating habits of the rich and famous, the menu will include a salad of three lettuce leaves without dressing with a Tic Tac for dessert? "It'll be a fantastic evening, and you can join us," she says. What? Actually dine with Anna Wintour — a woman who, it is said, will have you fired if you dare to speak to her in the Condé Nast elevator? Will she even bother to look at you? In the commercial, she can barely bring herself to look at the camera.

The oddity of the Anna Wintour pitch is that her name and likeness and voice will only be of interest to higher-end voters for whom the word Vogue means more than a Madonna song title and who might even have some notion that she is the model of the horror-show virago editor in "The Devil Wears Prada."
As if to further Mr. Podhortez's point, the Fox News Network has not been kind to her either (to say nothing of ousted Fox heretic Glenn Beck). Greg Gutfield: "I love Mick Jagger's new wig." Juan Williams: "[She looks like] Dr. Evil."
And then, of course, resident feminist and America Today anchor Megyn Kelly noted Ms. Wintour's fundraising effort today by posing the theoretical alternative:
Reached by phone, the Morning Star referred The Observer to press representatives for Fox News and Megyn Kelly.*
fkamer@observer.com | @weareyourfek
[*The New York Observer did not actually attempt to contact Satan for quote on this matter. This was a rhetorical flourish attempting to raise the question of how Ms. Kelly would know of Satan's speaking availability and willingness to speak at fundraising events. We apologize to our readers—and Satan—for any momentary confusion.]