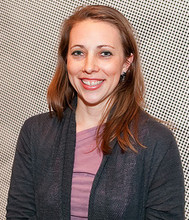 The Berkeley Art Museum and Pacific Film Archive at the University of California has just gained two new curators with impressive credentials, Artforum reports. Apsara DiQuinzio joins the staff as the institution's new curator of modern and contemporary art and Philippe Pirotte will serve as a new adjunct senior curator.
Before this, Ms. DiQuinzo worked at the Whitney Museum and the San Francisco Museum of Modern Art. Mr. Pirotte has served as the former director of the Kunsthalle Bern in Switzerland and a senior advisor at the Rijksakademie for Visual Arts in Amsterdam.
More from the press release:
Berkeley, CA, June 7, 2012— The University of California, Berkeley Art Museum and Pacific Film Archive (BAM/PFA) announced the hiring of Apsara DiQuinzio to the position of Curator of Modern and Contemporary Art and Phyllis C. Wattis MATRIX Curator and Philippe Pirotte to the position of Adjunct Senior Curator.

"With these two hires BAM/PFA adds tremendous depth and vitality to our already strong curatorial team," says BAM/PFA Director Lawrence Rinder. "Apsara and Philippe will both bring extraordinary knowledge, discernment, and creative thinking about modern and contemporary art across a wide range of global cultures. Apsara's strong engagement with artists, enthusiasm for non-mainstream art and culture, and commitment to art's social role wonderfully complement Philippe's passionate connection to the contemporary art of Africa and Asia, his deep knowledge of historical and contemporary film and video, and his special interest in international conceptual art practices. I look forward to working with them on many exciting projects over the coming years."

DiQuinzio is currently assistant curator of painting and sculpture at the San Francisco Museum of Modern Art, where she has organized solo exhibitions with Vincent Fecteau, Mai-Thu Perret, R. H. Quaytman, Felix Schramm, Paul Sietsema, and Katharina Wulff as part of the New Work series. She was a co-curator of the 2010 and 2008 SECA Art Award exhibitions, SFMOMA's biennial award for local emerging artists. She also edited the book The Air We Breathe: Artists and Poets Reflect on Marriage Equality, and organized the accompanying exhibition, and curated Abstract Rhythms: Paul Klee and Devendra Banhart. Prior to SFMOMA, DiQuinzio worked at the Whitney Museum of American Art, New York, where, among other exhibitions, she organized Burgeoning Geometries: Constructed Abstractions and Skin Is a Language. She also coproduced the Whitney's series of live music events, SoundCheck.

At BAM/PFA, DiQuinzio will be responsible for exhibitions and collections in the modern and contemporary area, and will oversee the MATRIX program of contemporary art, which features six to eight exhibitions annually, often of new, rarely seen, or experimental work. She will remain with SFMOMA through late September as she prepares for the forthcoming fall 2012 exhibition Six Lines of Flight: Shifting Geographies in Contemporary Art.

Based in Antwerp, Belgium, Pirotte is a freelance curator, a senior advisor at the Rijksakademie for Visual Arts in Amsterdam, and, until recently, the director of the internationally renowned Kunsthalle Bern, in Switzerland. He was also the founding director of the contemporary art center objectif_exhibitions in Antwerp, Belgium. At Kunsthalle Bern, Pirotte organized solo exhibitions, by artists such as Anne-Mie Van Kerckhoven, Owen Land, Oscar Tuazon, Jutta Koether, Allan Kaprow, and Corey McCorkle, and group shows, including the trilogy The Idea of Africa (re-invented) and Voids—A Retrospective of Empty Exhibitions. Among his accomplishments as a freelance curator, he co-organized the presentation of Luc Tuymans—Mwana Kitoko (Beautiful White Man) in the Belgian Pavilion at the 2001 Venice Biennial and, more recently, he co-curated Frames and Documents, Conceptualist Practices: Selections from the Ella Fontanals Cisneros Collection for the Cisneros Fontanals Foundation in Miami.

As adjunct senior curator at BAM/PFA, Pirotte will organize special exhibitions and participate in collections development for the institution.
Go west, young curators! Mazel!