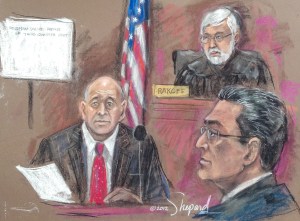 For anyone who'd like to see the bank executives who led America into the teeth of the financial crisis strung up by the laces of their Prada wingtips, a trip to the Southern District courthouse in Lower Manhattan may be a deflating experience.
The Observer had come to the federal courthouse seeking succor. Late last month, Reuters laid hands on an internal memo from the Securities and Exchange Commission declaring its investigation into Lehman Brothers was unlikely to lead to criminal charges. In the time it took Dick Fuld to type "the Bros always wins!!" the SEC was feeding reporters the company line: Lehman prosecutions were still a possibility.
That claim became harder to credit this weekend, alas, when SEC enforcement director Robert Khuzami told C-Span cameras that the worst crisis-era bets on souring mortgage bonds were made below the level of the executive suite. (Hmm. Did someone forget to eat his Wheaties?)
U.S. v. Gupta was supposed to be another story. Southern District U.S. Attorney Preet Bharara has been on an insider-trading tear, after all, winning convictions or guilty pleas in 59 of the 66 cases his office has brought since 2009. In the most high-profile case, the government gained an 11-year sentence for Raj Rajaratnam, the billionaire hedge fund manager caught paying corporate insiders to convey privileged information.
Rajat Gupta was among those who supplied Mr. Rajaratnam inside dope, the government said, alleging the former Mc-
Kinsey & Co. chief executive used his standing as a board director at such corporations as Goldman Sachs and Procter & Gamble to pass secrets to Mr. Rajaratnam's Galleon Group. In one damning-if-true instance, the government says Mr. Gupta telephoned Mr. Rajaratnam minutes after learning that Warren Buffett's Berkshire Hathaway was primed to invest $5 billion in Goldman Sachs. Galleon bought Goldman stock—and turned a quick million-dollar profit.
But securities law, it turns out, is not the best fuel for populist outrage. We knew that white-collar prosecutions were notoriously hard to win, that wealthy defendants could spend vast sums on defense lawyers, that the complexities of financial cases could wilt the attention of the perkiest juries. It wasn't until we'd planted ourselves on the hard wooden pews at 500 Pearl Street that we felt the full gravity of the conventional wisdom.
The resource gap between defense and prosecution was clear on the first day of the trial, when four attorneys from Kramer Levin Naftalis & Frankel huddled in the courtroom with an outside jury consultant, even as junior lawyers back at the firm's Midtown offices poured over a real-time feed of the trial transcript. The prosecution objected. Surely it wasn't fair for the defense to employ muscle outside the courthouse to research potential jurors' names? They might as well outsource the voir dire to a team of freelance Facebook trawlers in Bangalore! But Judge Jed Rakoff—the same cranky legalist who's made a reputation for hard treatment of financial institutions—allowed the outside help.
It got worse. Though the charges against Mr. Gupta are particularly egregious—a board director at Fortune 500 companies stepping out of a confidential meeting to funnel stock tips to a hedge fund manager is about as morally offensive as insider trading can get—the evidence is largely circumstantial. In its case against Mr. Rajaratnam, the government had smoking-hot wiretaps and corroborating witnesses to prove their case. It still took jurors a week to return a guilty verdict.
The evidence in Gupta was flimsier: witness testimony and phone records indicate that Mr. Gupta and Mr. Rajaratnam spoke around 3:55 p.m. on the day Mr. Buffett announced his Goldman stake, for instance, and in a wiretapped call the next day Mr. Rajaratnam told a Galleon trader that he'd received a tip that  "something good might happen to Goldman." In a wiretapped call a month later, Mr. Rajaratnam told another trader that "I heard yesterday from someone who's on the board of Goldman Sachs that they're going to lose $2 a share, the market has them making $2.50."
It wasn't hard to connect the dots, but that doesn't mean a jury will try.