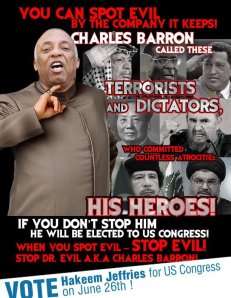 Even though it is heavily African-American, the newly reconfigured 8th Congressional District that Assemblyman Hakeem Jeffries and Councilman Charles Barron are competing for includes some neighborhoods that contain concentrated Russian Jewish communities. And some of the activists in these neighborhoods are rather uncomfortable with Mr. Barron's anti-Zionist advocacy and support for African dictators, so they held a press conference yesterday evening to urge their neighbors to turn out to vote for Mr. Jeffries.
"Our goal is to mobilize our community to come out against this vicious, racist anti-Semite and not allow him to come forward," Rabbi Mordechai Tokarsky, one of the lead organizers, explained at the event, which was conducted mostly in Russian.
Further emphasizing that point was a flier distributed by the organizers with Mr. Barron making a Dr. Evil pose from the Austin Powers film series. The literature directly calls Mr. Barron "DR. EVIL" and features him next to some of the controversial world leaders he has declared to be his personal heroes, as well as some that he hasn't.
"That is incredibly factual, actually," Rabbi Tokarsky said when we asked if the flier was fair. "A person who calls every tyrant and dictator his hero, I mean, you can't make these things up! It's quite incredible!"
"It's very extreme, it's very self-explanatory," he added.
Another flier distributed by an unaffiliated individual in the crowd was even more direct, declaring Mr. Barron a "black Nazi" who wants to "burn down America!!!"
Overall, the event was wrapped in an extreme sense of urgency.
"The current polls have the candidates split 50/50," the invitation to the "EMERGENCY Press Conference" proclaimed. "The election on June 26th is a Democratic primary and since no Republican has a chance in the district in November, whoever wins the primary will win the election. Thus, if we are to stop Barron, we must stop him now."