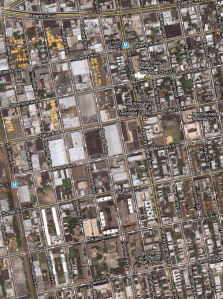 East New York, Brooklyn: amidst the slightly disintegrating buildings and graffiti-filled walls sits NY's 75th precinct—the precinct that is credited with the most stop-and-frisks of 2011.
While some inhabitants of the area stress the common concerns that police are exercising racial discrimination and brutality in their stop-and-frisk operations, there seems to be more to the story. To often, officers have no real connection to the communities they cover, The Brooklyn Bureau reports. They seem not to care, and the 7-5 is a perfect illustration of that.
However, in this supposed game of good versus bad, things may not be so black and white. Although the 75th precinct is known as the city's most violent, perhaps it is a necessity. In 2011, the neighborhood had 27 murders and 780 robberies, The Times reported earlier this month, the most of any precinct.
Nevertheless, the neighborhood's natives stress that the officers that roam their sidewalks are unaware of who the residents actually are, helping to widen the gap between the two sides.
Judah Brothers Boxing Gym is on the first floor of a two-story building at the corner of Liberty Avenue and New Jersey Avenue, a short block from the Liberty Avenue A-train subway station, where 86 people were stopped and questioned by police last year, according to NYPD data.

The men who work out at Judah Brothers know plenty about stop-and-frisk. Young men of color are the prime demographic for stops—according to the NYCLU, over 40 percent of those stopped in 2011 were black and Latino males between 14 and 24.

"I'm used to that. They're always doing it," said Ariel Judah, 35. He's tall, thin, and with a boyish face that makes him look much younger than he is. He says he was stopped recently while walking from the gym down Liberty Avenue, to a nearby corner store.

"'Where are you going? Do you live around here?'" the officer quizzed him.

"When I see a cop, I'm trying to get away from them," Judah says. "I don't have time for that."
Although the NYPD's CompStat June report for the precinct shows that the crime ratings have decreased by almost 24% in the past decade, for some, it remains a number that is just a number when it comes to the larger issue of the separation residents feel from their police force.