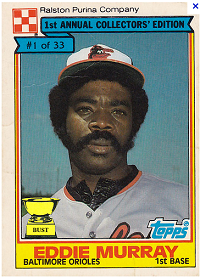 If there's been an overriding message to the government's ongoing crackdown on insider trading, it may be that anyone can profit illegally on privileged information, and that no potential defendant is too big…or too random for prosecutors to take on.
Last week, former McKinsey & Co. CEO Rajat Gupta was convicted on four counts of insider trading. Now it appears that former Baltimore Orioles first baseman Eddie Murray may be a target, as Reuters reports that the erstwhile slugger is among professional athletes under investigation for trading on nonpublic info on the buyout of a medical device company.
Mr. Murray has not been charged with any wrongdoing, but had been a subject in a probe of illegall trading in Advanced Medical Optics before the company was acquired by Abbott Laboratories in 2009.
The investigation is tied to the government's case against former MLBer Doug DeCinces, who agreed to pay $2.5 million in fines to settle an investigation into inside trading in Advanced Medical Optics. The probe is more distantly related to the case against hedge fund manager Raj Rajaratnam, according to Reuters, which says the government has identified Goldman Sachs and law firm Skadden Arps as among possible leaks of privileged information.
Mr. Murray played 21 seasons at the big league level, teaming with Mr. DeCinces with the Baltimore Orioles from 1977 to 1982, and suffering through two two inglorious years with New York Mets in the early 1990s. He was elected to the Hall of Fame in 2003.